Cam Holds Press Conference / Jay-Z Speaks on Cam
Submitted by mfizzel on Wed, 01/25/2006 - 9:01pm.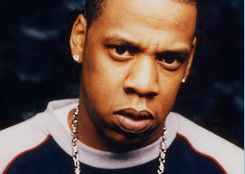 Cam'ron held a press conference today (January 25) to address the Jay-Z beef and announce plans for his Diplomats crew.
During the event, held at New York's Tribeca Cinemas, the Dipset capo said that he may be fined because his release from Def Jam stipulated that he couldn't dis Def Jam or any of its figures. Under the agreement, Cam could be fined $100,000 every time he negatively mentions the label.
However, that didn't seem to stop the Harlem native of making light of Hov's recent signing of Nas.
"I think that's a good move for Jay-Z," Cam'ron said. "If anybody can bone somebody's baby mother and bring them on stage to give them five, [then] you look good. It makes Jay-Z look hardcore."
Cam kept the sarcasm coming, denying that he was intimate with Beyonce before and stressing that Hov was in love with Charli Baltimore.
"A lot of people thought it [Lance "Un" Rivera stabbing] was about a bootleg CD," Cam explained. "It was about Charli Baltimore. He love her."
Since the dis has been released, Cam has hinted that he's ready to go 15 rounds with President Carter. However, there may be no need. Hov has revealed that he doesn't plan on retaliating yet. If he refuses to respond, Cam'ron says he's not likely to drop the other records.
"At the end of the day, I'm not gonna keep beating up on an old man," Cam mocked.
Upon being asked if he spoke to 50 Cent or expected to collaborate with the rapper, Cam quickly replied, "No, no.. Next."
Cam'ron also addressed recent reports about Juelz Santana getting into an altercation with a Def Jam employee, word is Santana is not allowed in the building.
"He got a month off because of a little incident," Cam remarked. Cam also denied that Juelz was being dropped from Def Jam.
Cam also took the opportunity to announce the releases of his Killa Season album and movie as well as releases from JR Writer, Hell Rell, Duke The God, Juelz and Jim Jones. The rapper is also launching a new web site, killacam.net, which will feature a video show.

In related news...

Between the recent acquisition of legendary Queensbridge rapper Nas and the insults being lobbed on wax by former Roc-a-fella VP Cam'ron, Jay-Z has his hands full with the press this week.
Earlier this week SOHH reported that Nas will be entering into a business agreement with President Carter's Def Jam Records. The news should have been expected in light of a reconciliation by the two once feuding rappers at Jay-Z's recent 'I Declare War Concert.' In a recent interview with Jay-Z spoke about how he and Nas were able to put their differences aside.
"Everybody talks about Big and Pac and how that ended," Jay-Z told USA Today. "We talked about showing a different side and what it would mean to the culture of hip-hop. It was bigger than just us and our trivial little beefs. Hopefully, it shows another way."
Speaking of beef, Jay-Z says he's not bothered by all the attention Cam'ron has been paying him with his two recent releases, "You Got It" and "Swagger Jacker," both which attack Hov. However, Jay-Z admitted he is torn "because the artist in me tells me to respond to that immediately." Instead he plans to hold off because he realizes it's Cam's way to attract more media attention for his upcoming album Killa Season.
"I feel like I would be stupid to even pay that any attention, because it's such a ploy," said Jay in an interview with MTV News. "We'll see what happens. Maybe on my time we'll deal with it, but I'm not really pressed. I'm inspired by good artistic shit. Cam's shit is not artistic. There's nothing good about it. Everything about it is an obvious ploy to get attention. Nobody wants to get used. You're just using me. Of course he had to go that far."
Jay went on to say that the most shocking of Cam's claims in "You Got It" involved former friend/Roc-A-Fella partner Dame Dash tipping Cam off to Hov's intentions to embarrass him at a recent concert, since he says he hasn't spoken Dash since they dissolved their business partnership.
"To be honest with you, that's the most surprising thing," Jay said. "I'm still in shock, to be honest with you."
While there are no current plans for any Nas/Jay-Z albums and the jury is still out on whether Jay-Z will even respond to Cam'ron, the Def Jam President says he is looking forward to appearing on at least one cut on Nas' next album, which is slated to be released next September in a joint venture between Sony and Island/Def Jam.
Source: www.SOHH.com
How To DOWNLOAD