Cam'ron Explains Beef With Jay-Z
Submitted by mfizzel on Fri, 01/20/2006 - 7:29pm.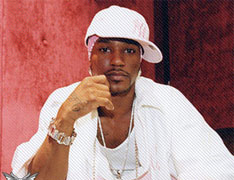 Rapper Cam'ron has further clarified his position against Island Def Jam president/rapper Shawn "Jay-Z" Carter, after the Harlem native recently released the dis track called "Gotta Love It."
Cam'ron alleged that Jay-Z's declaration of peace with Nas in October 2005, was initially meant to destroy the credibility of his own Diplomats crew.
Cam'ron told Miss Jones and the Hot 97 morning show team the culmination of his grievance in the weeks leading up to Jay-Z's "I Declare War" concert, which was hosted by rival station Power 105.
"The last straw was that station down the dial [Power 105 and] he supposed to ["declare war"], where he is supposed to be dissing everybody he had a problem with," he explained to Miss Jones, DJ Envy and others. "So you know leading up to the concert, I got Dame calling me like, 'He's trying to get old footage of you of when you and Jim got jumped and he's trying to find Jim's Catholic school pictures.' So leading up to this concert, we had to get on point, you dig? I don't know whatever he was looking for, you ain't gonna find it."
Jay-Z and Nas' peace treaty was applauded by the Hip-Hop community, however beef with Cam'ron and his crew has quietly festered for many years.
Prior to the "I Declare War" concert, Jim Jones publicly dissed Jay-Z to Mad Linx when he was the host of BET's "Rap City."
"When [Jay-Z] became the President, that was our way out [of Def Jam]. We not with it at all, ya dig, and if you wanna go statistically, not even on just the fire part, just statistically, we sold more records than everybody up at Roc-A-Fella every time we came out with an album," Jim Jones said on air. "Why would we be with somebody that sell no records statistically? The Roc is over. It's more like a cubic zirconium. The diamond is crumbled."
Cam'ron also said problems arose when Jay-Z discovered plans to appoint him President of Roc-A-Fella, a position he turned down due to a disagreement over his proposed yearly compensation.
Cam'ron also denied that he slept with Jay-Z's girlfriend Beyonce, although he insinuated an act took place in his freestyle dis.
"This ain't noting personal toward her, but I know what hurts his heart," he said.
Still Cam'ron admitted that this was a war of words, not one he hoped would end in violence.
"At the end of the day, I don't want any violence. I'm trying to avoid it. It don't even make sense to do violence, we just trying to do music," Cam admitted.
Jay-Z wasn't available for comment at press time.
Reported by www.AllHipHop.com
How To DOWNLOAD