Evil Empire - Be South #12: The Root Of All Evil (Hosted By Ludacris)
Submitted by mfizzel on Fri, 08/04/2006 - 12:49pm.
Dirty South | Evil Empire | Mixtape Torrents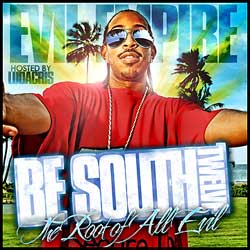 Evil Empire is back from a brief hiatus, restarting the Be South engine and getting special
host Ludacris to get on the bandwagon.
With a slew of new tracks, exclusives and freestyles from the South's hottest artists around,
the Disturbin' Tha Peace ring-leader is on his mixtape grind with The Empire.
This mixtape features all-new music from T.I. & Jay-Z, Rick Ross & Jazze Pha, Bun B, Juvenile,
Lil' Wayne, Paul Wall, Trae & Jim Jones, Slim Thug & Pharrell, The Clipse, Dre, Mike Jones and
more.

1 - Mary J. Blige feat. T.I. & Jay-Z - The Lights Part 2
2 - Rick Ross - For Da Low (produced by Jazze Phae)
3 - Bun B - Pimp
4 - Ludacris - Tell It Like It Is
5 - Rick Ross - Whip It Anthem (Not On Album)
6 - Young Buck - Pray
7 - Juvenile - Killin That
8 - Lil' Wayne - Get Out The Way
9 - Paul Wall - Pop My Trunk
10 - Rick Ross feat. Lil' Wayne & Brisaco - I'm A G (produced by DJ Khaled)
11 - Trae feat. Jim Jones - Coming Around The Corner
12 - Question - Jump Back (produced by Polygrafic)
13 - Slim Thug feat. Pharrell - In My Mind
14 - Ludacris feat. Pharrell - Money Maker
15 - Rick Ross feat. Lyfe Jennings - Its My Time
16 - Razah feat. Juvenile & Bun B - We Riding
17 - Letoya feat. Mike Jones & Killa Kyleon - Gangsta Grillz
18 - Dre feat. Keyshia Cole - Somebody
19 - Rick Ross feat. Akon - Cross The Line
20 - Letoya feat. Slim Thug - Hey Fella
21 - Clipse feat. Slim Thug - Whap Whap
22 - Slick Pulla - Wet Wipes
23 - Kiotti - Grand The feat. Audio
24 - Question feat. Trey Songz - So Cool
25 - Rick Ross - Mi. Yayo Freestyle
How To DOWNLOAD