DJ Smallz, Ludacris & Field Mob - Southern Smoke #27: Disturbin' Tha Muthafu**in' Peace
Submitted by mfizzel on Sat, 07/08/2006 - 6:16pm.
Dirty South | DJ Smallz | Mixtape Torrents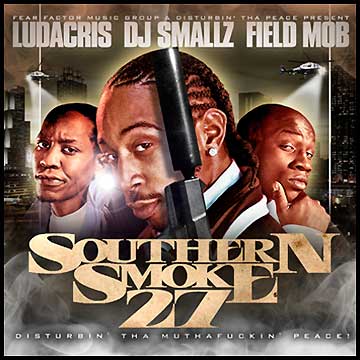 DJ Smallz has been down with the DTP (Disturbin' Tha Peace) family for quite some
time. Originally mixing a promo mix for Luda called 'Mouth of the South,' he has
since worked projects with Bobby Valentino and Playaz Circle, Smallz is back in the
fold with one of Atlanta's premier rap families.
With host Luacris recently releasing a track titled "War With God" not so subliminally
dissing T.I. and Jeezy, and co-hosts Field Mob recently releasing their DTP debut Light
Poles and Pine Trees, this edition of Southern Smoke is a busy one.
This Dirty South mixtape features 30 all-new tracks, remixes and freestyles from T.I.,
Jeezy & USDA, Lil' Wayne, 8Ball & MJG, Trick Daddy, Rick Ross, D4L, Project Pat, David
Banner, Master P, C-Murder, Boyz N Da Hood, Mike Jones, Trae, Pharrell & Famlay and more.

1 - DJ Smallz, Ludacris & Field Mob – Intro
2 - Ludacris – War With God [Ludacris Dissin' Who???]
3 - T.I. feat. Eve & Swizz Beatz – Cash Flow
4 - Trick Daddy feat. Plies & B.I.G. – Duck Down
5 - 8Ball & MJG feat. Project Pat – Relax & Take Notes
6 - Field Mob – We Southern Smokin' Good Down Here
7 - D4L feat. Lil' Wayne, Rick Ross & Yung Joc – I'm Da Man (remix)
8 - Yung Joc feat. Rick Ross & Slim Thug – It's Goin' Down (remix)
9 - Rick Ross feat. Project Pat & Young Jeezy – Hustlin' (remix)
10 - Young Jeezy feat. Slick Pulla & Blood Raw – Ya Dig (remix)
11 - Field Mob – Disturbin' The Muthafuckin' Peace Once Again
12 - Boyz-N-Da-Hood feat. T.I. & Lil' Wayne – Gangsta Boyz
13 - Project Pat feat. Young Jeezy & Lyfe – Tell Tell Tell
14 - David Banner feat. Lil' Yola – Get Money
15 - Trae feat. Yung Joc – In The Hood
16 - Famlay feat. Pharrell – Beeper
17 - Slick Pulla – Birds Fly South
18 - Rick Ross feat. Dre – Blow
19 - Mia X feat. Lil' Jon – Push 'Em Off
20 - C-Murder – Freestyle (recorded after prison stint)
21 - Master P – 20 Inch
22 - Lil' Wayne & Baby The Birdman – Stuntin' Like My Daddy
23 - V12 Boyz (Pimp C, Lil' Boosie & Webbie) – Swerve Part 2
24 - Mike Jones, Paul Wall & Papoose – Live From The Block
25 - Field Mob – Fleetwood Mac & Chevy P Talkin' Shit
26 - Bohagon feat. Lil' Scrappy & Lil' Jon – Gettin' Pussy
27 - T.I. feat. Pharrell – Reach For The Sky [no on album]
28 - Pimp C feat. Mannie Fresh – Cheat On Your Man
29 - Field Mob feat. Ludacris & Bobby Valentino – Sorry Baby
30 - DJ Smallz & Field Mob – Disturbin' More Peace Outro
How To DOWNLOAD