DJ Ideal, Ludacris & DTP: The DTP Mixtape
Submitted by mfizzel on Sat, 01/07/2006 - 5:19pm.
Mixtape Directory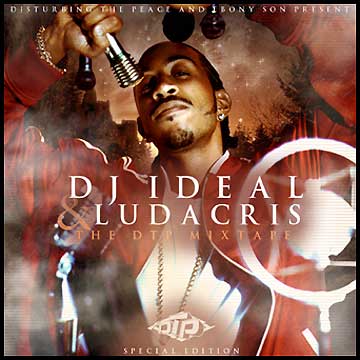 DJ Ideal represents for the entire Disturbin' Tha Peace aka. D.T.P.
as special host Ludacris brings along the whole crew to help jump off
the new DTP debut compilation Ludacris Presents...DTP. Alongside the
entire DTP, including Bobby Valentino, Shawnna, Playaz Circle, Field
Mob, I-20, Sharifa and Norfclk, Ideal shows you how they do it in ATL.

1 - Ludacris & DJ Ideal - Intro
2 - Ludacris feat. Field Mob - Georgia
3 - Ludacris New Orleans - Interlude
4 - Shawnna - Still Tippin - Freestyle
5 - Ludacris feat. Redman & Ghostface Killa - Future Thug
6 - Smoke (Field Mob) feat. Stat Quo - Come N See Me
7 - I-20 feat. Young Buck & Ludacris - How The Hell
8 - Bobby Valentino - Freaky
9 - Bobby Valentino Speaks
10 - Field Mob feat. Bone Crusher - Deep Tonite
11 - Ms. Shyneka Hot 107.9 - Interlude
12 - Shawnna - Gettin Some Head
13 - Three-6-Mafia Checks In
14 - Playaz Circle feat. Three-6-Mafia - Fresh Out Da Spot
15 - Ludacris - Pop You
16 - Ludacris feat. Luke & Trick Daddy - Throw That D (2006)
17 - Field Mob Speaks
18 - Smoke - Field Mob - 80 Bars Freestyle
19 - Norfclk - Happen To Ya
20 - Playaz Circle - Gucci Duffle Bag
21 - Playaz Circle Speak
22 - Playaz Circle feat. Jazze Pha - Playaz Circle
23 - Shawnna Freestyle
24 - Norfclk - Who Do You Know
25 - Shawn Jay - Field Mob - I Hate You
26 - Shawnna - Potion - Freestyle
27 - Playaz Circle Interlude
28 - Playaz Circle feat. I-20 - You Aint Gotta Enough
29 - Ludacris - Interlude
30 - Bobby Valentino feat. Field Mob & Lil Fate - Table Dance
31 - Sharifa Speaks
32 - Sharifa - Impossible
33 - Sharifa - Phoney
34 - Ludacris - Outro
35 - Gwen Stefani feat. Ludacris - Luxurious - Remix
How To DOWNLOAD