DJ Storm - The DTP Takeover: Its An Epidemic
Submitted by mfizzel on Tue, 07/25/2006 - 3:54pm.
Dirty South | DJ Storm | Mixtape Torrents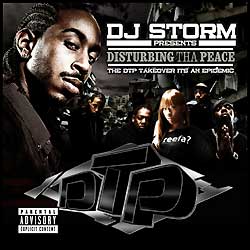 The Atlanta hip-hop scene has seen many hip-hop families in their past, most notably
the Outkast and Dungeon families. The new face of ATL family rap is just getting started.
Get ready for The Takeover.
Representing with DJ Storm of the Desert Storm family, Ludacris and his Disturbin' Tha
Peace family show up to put it down heavy and spread the word: DTP's time is now!
This double mixtape features all-new music from DTP's Ludacris, Shawnna, Shareefa, Playaz
Circle and I-20. Also featuring choice cuts from the South, the 2nd disc is a "chopped
& screwed" version of the first.

1 - Pain N Tha Ass & Ludacris - Intro
2 - Shawnna feat. Lil' Wayne, Rick Ross, Pimp C - Gettin Some (remix)
3 - Shareefa feat. Ludacris - I Need A Boss
4 - Desert Storm Radio Interlude
5 - Rick Ross feat. Young Jeezy, Shareffa, Jay-Z - Hustlin (remix)
6 - Three Six Mafia - Freestyle
7 - 8Ball & MJG feat. Project Pat - Relax & Take Notes
8 - Playaz Circle Speaks
9 - Shawnna feat. I-20 - Block Music
10 - Rick Ross feat. Dre - Blow
11 - Curren$y feat. Lil' Wayne, Remy Ma - Where Da Cash At
12 - Shawnna feat. 8Ball & MJG - Candy Coated
13 - T.I . Feat Big Kuntry - Dip Slide
14 - Pimp C feat. Mannie Fresh - Cheat On Yo Man
15 - Playaz Circle Speaks
16 - Playaz Circle - Freestyle
17 - Paul Wall Speaks
18 - Dogg Pound feat. Paul Wall - Make That P... Talk
19 - Young Capone Speaks
20 - Young Capone - Toppushback
21 - Field Mobb - Area Code 229
22 - Playaz Circle Speaks
23 - Playaz Circle - Bitch Chill
24 - Ludacris - War Of The Gods
25 - Ludacris Outro
26 - Bobby Valentino - Wreck
How To DOWNLOAD