DJ Wally Sparks - Ludacris & DTP: Southern Conference
Submitted by mfizzel on Tue, 04/25/2006 - 5:11pm.
Mixtape Directory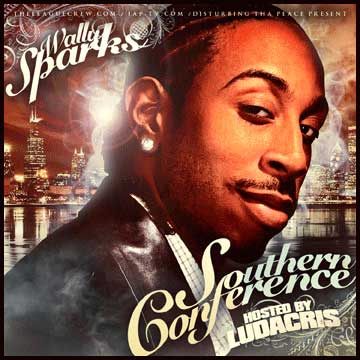 DJ Wally Sparks kicks back and lets the Southern Hospitality fly as
he lights up the Southern Conference with this special Ludacris/DTP
mixtape. A-Town stompin' with one of the South's favorite artists and
his extended rap family, this mixtape has exclusive blends, remixes &
tracks by Luda, Playaz Circle, Shawnna, I-20, Field Mob & Big K.R.I.T.

1 - Intro
2 - Ludacris & Playaz Circle - We Got Next Freestlyle
3 - Playaz Circle feat. Ludacris - Gucci Bag (Sparks Fly remix)
4 - Shawnna & Ludacris feat. 8Ball & MJG - Gettin Some (Sparks Fly remix)
5 - I-20 feat. Ludacris, Project Pat & Young Buck - How The Hell (Sparks Fly remix)
6 - Ludacris, Jadakiss & Juvenile - Poppin Heat (Sparks Fly Blend)
7 - Juvenile feat. Ludacris & Fat Joe - Pop U
8 - Shawn Jay (of Field Mob), Suthernfolk & Jazze Pha - Pimpin Freestyle
9 - Field Mob - My Wheels
10 - Playaz Circle & Ludacris feat. Slim Thug - U Can Believe It (Sparks Fly remix)
11 - Big K.R.I.T. - Mary Jane (Spaced Out)
12 - Playaz Circle feat. 8Ball & MJG - Bitch Chill
13 - Fonzworth J. Bentley - Laid Back
14 - Ludacris & Field Mob - GA Worldwide [produced by Extraordinaire The Great]
15 - Bubba Sparxxx & Ludacris - As The Rim Spins (Sparks Fly remix)
16 - Field Mob feat. Ciara & Jazze Pha - So What
17 - Playaz Circle feat. Pastor Troy - Murda Shit
18 - Tom Green Interlude
19 - Ludacris - A Man's World (Sparks Fly blend/R.I.P. J.Dilla)
20 - Ludacris & T.I. - Pussy Galore (Sparks Fly blend)
21 - Ludacris - So So Def Radio Freestyle
22 - Ludacris feat. Playaz Circle - 2 Miles An Hour (remix)
23 - Big K.R.I.T. - I Just Touched Down
24 - Outro
How To DOWNLOAD