Evil Empire - Be South X: Live From Miami
Submitted by mfizzel on Thu, 03/23/2006 - 7:22pm.
Mixtape Directory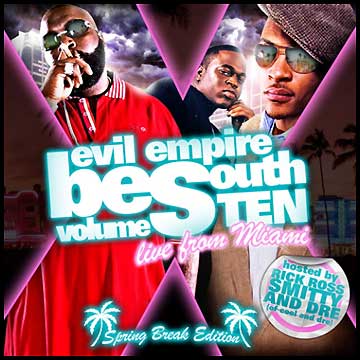 Evil Empire takes you to South Beach for this Spring Break Edition
mixtape hosted by certified hustler Rick Ross, diamond-dripper Smitty
and super-producer Dre (one half of Cool 'N Dre). This 'Live From Miami'
features new Southern heat from T.I. & Pharrell, Pitbull, 3-6 Mafia/Lil' Flip,
BG, Young Buck, Ying Yang Twins, UGK, Young Jeezy, Slim Thug, GLC.

1 - T.I. feat. Pharrell - Good Life
2 - Three-6-Mafia feat. Project Pat, DMX, Lil Flip & BG - Poppin My Collar (remix)
3 - T.I. - Why You Wanna Do That
4 - Ying Yang Twins feat. Nas & Nayshawn - Money Machine
5 - B.G. feat. Chopper City - We Got It Going On [not on album]
6 - Rick Ross - Boyz N Da Hood Freestyle
7 - Young Buck - G-Unit '06
8 - DJ Clue? feat. Young Jeezy & Fabolous - Gangsta Party
9 - E-40 feat. Juelz Santana & UGK - White Girl
10 - Bone Crusher feat. Pimp C & Too Short - No Lower
11 - Project Pat feat. DJ Paul - Googley Moogley
12 - Bubba Sparxxx feat. Big Boi - Ms New Booty (remix)
13 - GLC feat. Three-6-Mafia - Clap Your Hands
14 - J.R. Writer feat. Slim Thug - This Is Funny
15 - Smitty feat. Chingo Bling - You Already Know (produced by DJ EFX)
16 - Yo Gotti feat. Young Buck - Gangsta Party (remix)
17 - Dre - Stay Fly
18 - Bone Crusher feat. Chamillionaire - Get Up On It
19 - Juvenile feat. Trey Songz - Line Of Fire
20 - Notorious B.I.G. feat. Pitbull & Trey Songz - Gotta Have It [not on Duets]
21 - Question - So Many Corners
22 - El Dorado Red feat. Killa Katt - Smoke Good
Props KDshortkid
How To DOWNLOAD