Big Mike & Evil Empire - Interstate Trafficking: Riding Dirty
Submitted by mfizzel on Sun, 06/04/2006 - 9:05am.
General | Big Mike | Mixtape Torrents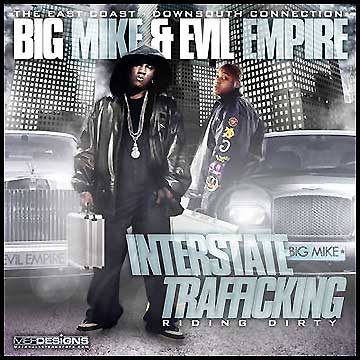 Big Mike & Evil Empire team up and they are your east coast, down
south connection. This Riding Dirty edition features some major diss
tracks from both Jay-Z and Cam'ron plus new tracks & remixes from
The LOX, Lloyd Banks, Juelz Santana, JR Writer, Puple City w/ Jim
Jones & Max B, Busta Rhymes & Nas, Beanie Sigel, Lil' Wayne &
Curren$y, T.I., Yung Joc w/ Rick Ross, Slim Thug and Jody Breeze.

1 - Jay Z - Im The Boss (Dissin' Camron)
2 - Camron - It's Going Down (Dissin' Jay Z)
3 - The LOX - Feel It In The Air
4 - Styles P - Penterntiary Chances
5 - J-Hood feat. Sheek Louch - Up The Ladder
6 - J-Hood feat. Jadakiss - All Up On Me
7 - Hell Rell feat. Paul Cain - Chevy Ridin High
8 - JR Writer - History In The Making
9 - 40 Cal - The Gun Song
10 - Jim Jones - We Fly High
11 - Max B - Get Throwed
12 - Purple City feat. Jim Jones & Max B - So Gangsta
13 - Juelz Santana - Addicted (DJ Khaled Album)
14 - Busta Rhymes feat. Nas - Dont Get Carried Away
15 - Beanie Sigel - Why Wouldn't I
16 - Beanie Sigel feat. Ransom - Shoot First
17 - DJ Khaled feat. Styles P, Fat Joe, Rick Ross & Akon - On The Corner (DJ Khaled Album)
18 - Lloyd Banks - 1970 Something
19 - The Game feat. Lyfe - Soon As I Wake Up
20 - Evil Empire - Intro
21 - Yung Joc feat. Rick Ross, Slim Thug & Jody Breeze- It's Going Down (remix)
22 - Lil' Wayne feat. Currency - Laced Up
23 - Rick Ross - Whip It, Whip It (full song)
24 - Young Buck - Lets Get High
25 - Rick Ross feat. Fat Joe - Southside Bombers
26 - Big Mike feat. T.I. - Okay,Okay
27 - Lil Wayne feat. Baby - Stuntin Like My Daddy
28 - Lil Wayne - MIA (DJ Khaled Album)
29 - Urban Mystic feat. Rick Ross - Bumpin Into You (remix)
30 - Question - Im Just Playin'
31 - Evil Empire - Outro
How To DOWNLOAD