DJ Whoo Kid & DJ Kay Slay - The Best Of Saigon
Submitted by mfizzel on Thu, 12/01/2005 - 3:53pm.
Mixtape Directory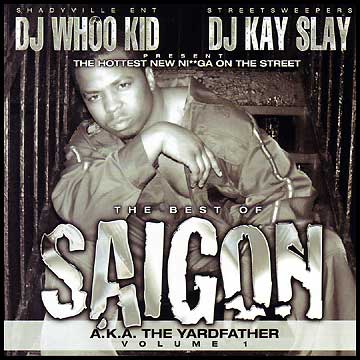 CLASSIC shit re-released!

DJ Whoo Kid teams up with DJ Kay Slay dropped this mixtape back
about three years ago with Saigon, and still ain't any mixtapes really
touching this.

1 - DJ Kay Slay Intro
2 - Favorite Things
3 - Contraband (remix: new 2nd verse)
4 - DJ Whoo Kid Freestyle
5 - Say Yes (produced by Alchemist)
6 - If…(My Mommy)
7 - Monsterz (produced by DJ Honda)
8 - Abandoned Nation (Da Yard) feat. Atrocity & Rough
9 - Billie Rae Thug
10 - Drama King Freestyle pt.1
11 - Drama King Freestyle pt.2 (Lil Niggaz)
12 - Troopin' (Sugar Pie Honey Buns)
13 - Letter To Omnipotent
14 - DJ Kay Slay Interlude
15 - DJ Whoo Kid Freestyle
16 - What Am I Gonna Do
17 - My Life feat. Rough
18 - Bust Ya Gunz feat. Tru-Life
19 - We Da Click (produced by Alchemist) feat. Twin (of Infamous Mobb)
20 - Foot Locker Spot
21 - Sai-Giddy Freestyle
22 - Sho'Nuff
23 - The Corner (produced by DJ Mark Ronson)
24 - Endangered Species feat. John Forte
25 - Saigon (Homegrown…)
How To DOWNLOAD