DJ Smallz & Piles - The Calm Before The Storm
Submitted by mfizzel on Tue, 08/22/2006 - 6:27am.
Dirty South | DJ Smallz | Mixtape Torrents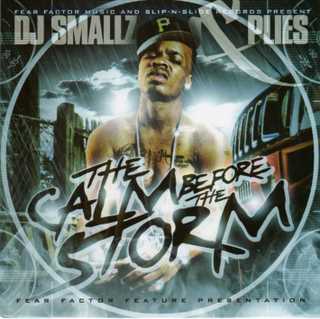 DJ Smallz takes a moment to introduce us all to Florida's newest superstar
in the making, Plies aka Plies the Realist. Reppin' Fort Meyers, (Pike-istan
Florida) "Mr. Southern Smoke" & Slip-N-Slide Records bring you the most
talked about artist outta the Gunshine State since Rick Ross blew up.
This "Fear Factor Feature Presentation" features 25 exclusive tracks and
freestyles with production from Mr. Collipark and Jim Jonsin, as well as cameos
from Trick Daddy and Akon.

1 - Fear Factor Intro feat. DJ Smallz
2 - Take Off
3 - Where He At
4 - I Just Want The Paper
5 - Duck Down feat. Trck Daddy
6 - Changing The Game
7 - 36 Ounces
8 - Ain't Worried
9 - Power Moves
10 - All A Nigga Knows
11 - Dope Boy
12 - Got Money
13 - Ft. Meyers
14 - U Ain't A Real Nigga
15 - 100% Real Nigga
16 - Real Nigga Music
17 - Still In 'Em
18 - 50 Grand
19 - Bid Long
20 - Confessions
21 - I Wanna feat. Akon
22 - Right & Wrong Way
23 - Ms. Pretty Pussy
24 - Real Nigga Roll Call
25 - I'm Tired Of Lying
How To DOWNLOAD