DJ Drama - Piles: From The Bottom To The Top
Submitted by mfizzel on Sat, 08/12/2006 - 8:08pm.
Dirty South | DJ Drama | Mixtape Torrents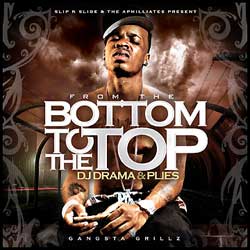 Reppin' Fortown, Florida and his Slip N Slide family to the fullest, Flordia's newest rap talent
Plies shows up to put it down on this Gangsta Grillz special edition mixtape.
Fresh off his exciting performance at the OZONE Awards, Plies teams up with 'Mr. Gangsta Grizzillz'
DJ Drama to show off how gangsta his sh*t really is. Taking you From The Bottom To The Top, this
mixtape should help put Plies over the Top.
This mixtape features exclusive freestyles and tracks plus a couple classic cuts to school those
who aren't familiar yet. His debut album Da Real Nigga Bible is coming soon!

1 - Intro
2 - Takeoff pt. 2
3 - I Just Want The Paper
4 - Bid Long
5 - Ain't A Real Nigga
6 - So Fresh feat. Trina
7 - I Wanna Fuck You feat. Akon
8 - Plies Speaks
9 - Duck Down feat. Trick Daddy & Notorious B.I.G.
10 - Bond Money
11 - Know Something
12 - Choppa Zone
13 - Where He At
14 - From The Bottom To The Top
15 - God, I'm Tired Of Lyin'
16 - Outro
How To DOWNLOAD