DJ Smallz - Fear Factor Florida
Submitted by mfizzel on Sat, 09/09/2006 - 1:10pm.
Dirty South | DJ Smallz | Mixtape Torrents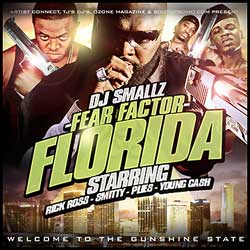 Along with some of the South's premier hip-hop supporters, including
OZONE magazine and TJ's DJ's, DJ Smallz (a South Florida native)
welcomes you to The Gunshine State, Florida.
Alongside some of the premier talent coming from the bottom of the
map, Fear Factor Florida's tourguide aka. 'Mr. Southern Smoke'
joints 'Mr. Port Of Miami' Rick Ross after moving 200k of his Def
Jam debut.
Also joining Smallz are special guest hosts Smitty (major mixtape
dropping soon!), Plies and Young Cash, who join the Gunshine
joyride. This mixtape features Florida heat from Ross, Plies,
Smitty, Cash, Triple C, Dee Boi, Grandaddy Souf, Tampa Tony,
Brisco, Wes Fif and more.

1 - DJ Smallz & Rick Ross – Fear Florida Intro
2 - Triggastate Trendsetters – I'm From Florida
3 - Rick Ross – Fear Factor Music PSA
4 - Triple C feat. Rick Ross – Whip It
5 - Smitty – Lil' Haiti
6 - Wes Fif – 10-4
7 - Dee Boi – Florida
8 - Plies – Hood Premier
9 - Swordz – Weather Man
10 - C-Ride feat. Dre – Pushin'
11 - Rick Ross – I'm Still Hustlin'
12 - Brisco – Block Vaccant
13 - Tampa Tony – Bobbahead
14 - Acafool – Hatablockaz
15 - Stacks feat. Rick Ross – You Ain't Never
16 - Triple J – What The Lick Read
17 - Grandaddy Souf – Make It Rain
18 - Young Cash – Duval County Bitch!
19 - 21 Reese feat. Pitbull – Take This Money
20 - Strizzo feat. Deca – Sweat (Remix)
21 - Haitian Fresh – Put Yo Leg Up
22 - Jak (of Triggastate) – Jakboi Wit It
23 - Smitty – Lil' Haiti Representa
24 - Treal – You So Right
25 - Riskay feat. Yola Da Great – Brand New Money
26 - Jade Foxx feat. Smitty & Trey Songz – Why
27 - Plies feat. Akon & Snoop Dogg – I Wanna
28 - Blood Raw feat. Field Mob – Feels Good
29 - Young Cash – Believe It
30 - Dirtbag feat. Dre – Haters
31 - Rick Ross – Outro
How To DOWNLOAD