DJ Smallz & Gangsta Boo - Still Gangsta
Submitted by mfizzel on Mon, 08/21/2006 - 5:37pm.
Dirty South | DJ Smallz | Mixtape Torrents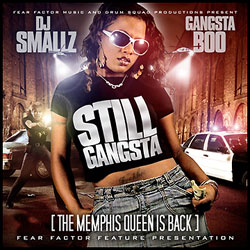 Former Three Six Mafia posse member Gangsta
Boo returns to the mixtape scene with the
help of "Mr. Southern Smoke" himself, DJ
Smallz. Showing that she's no joke on the mic,
Boo reps the Durty hard and shows that she
can spit with the best of them...male or
female
Featuring over 20 exclusive tracks and
freestyles with cameos from Lil' Jon, Don P of
Trillville, Crime Mob, Bun B of UGK, Snoop
Dogg, and more. Major production assistance from
Drumma Boy, Young Jeezy, Rick Ross, and Lil'
Scrappy.

1 - Fear Factor Intro feat. DJ Smallz
2 - Still Gangsta feat. Drumma Boy
3 - Gangsta Boo Is Back
4 - Gimme My Props
5 - I'm The Shit feat. Nick Scarfo & Prophet Posse
6 - Pop Da Trunk
7 - The Female Bun B
8 - Da Blow feat. Lil' Jon
9 - Drop A Bundle feat. Chyna Whyte
10 - Show Ya Grill feat. Kristyle, Don P. (of Trillville) & Drumma Boy
11 - Sippin' & Spinnin' (Remix) feat. Bun B & Playa Fly
12 - Gangsta Patrol feat. Bone Crusher & Lil' Fate (of DTP)
13 - Break A Nigga Off feat. Rich Boy & Snoop Dogg
14 - Lifestyles feat. Rasheeda, Diamond & Princess (of Crime Mob)
15 - Dope Dick
16 - The Black Maryiln Monroe
17 - Splash feat. La Chat
18 - Chillin' In Da Club feat. Kristyle
19 - Gangsta Outro feat. DJ Smallz
Bonus Tracks
21 - Drumma Boy feat. Cap 1 – D Boy Fresh
22 - Kristyle feat. Drumma Boy, Gangsta Boo – Find Me In Ya Town
23 - Gangsta Boo's Gotta Secret… Listen Up!
How To DOWNLOAD