DJ Kay Slay - Down With the King
Submitted by mfizzel on Tue, 01/03/2006 - 11:03am.
Mixtape Directory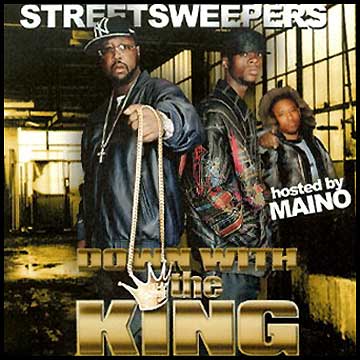 DJ Kay Slay slaps your favorite DJ and teams up with Maino to bring
you all-new hip-hop to wind out 2005 and ring in the New Year. On hand
with the Brooklyn mixtape specialist, the Drama King gives you new 50
Cent, Papoose, Juvenile, Mobb Deep & Tony Yayo, Snoop & Game w/
Mary J Blige, D-Block & Black Rob, Juelz & Bone Thugs, Wicked, Littles.

1 - Maino Intro
2 - Papoose Freestyle
3 - Juvenile Freestyle
4 - Maino - Mixtape Luv
5 - Mobb Deep feat. Tony Yayo - Gang Bang Muzik
6 - Notorious B.I.G. feat. Fabolous, Busta Rhymes, Foxy Brown & Snoop Dogg - Shut Your Mouth
7 - Papoose feat. Jadakiss, Styles P, McGruff, Sheek Louch & Black Rob - Raised With Them Gangstas
8 - Raekwon - Range Rover
9 - 50 Cent - I Don't Fuck With Them Niggas
10 - Mobb Deep feat. 50 Cent & Nate Dogg - Have A Party
11 - Maino - Shoot 'Em Up
12 - Mary J. Blige feat. Raekwon - Be Without You (remix)
13 - Jamie Foxx feat. Snoop Dogg & The Game - With You
14 - Mariah Carey feat. Juelz Santana & Bone Thugs - Don't Let It Go (remix)
15 - Juvenile - Rodeo
16 - Littles - Boss Player
17 - Maino Freestyle
18 - Three 6 Mafia feat. Project Pat - Poppin' My Collar
19 - Wicked feat. Papoose - Dangerous
20 - Onasis feat. Jhetto Freestyle
21 - The League - Shoot
How To DOWNLOAD