DJ Ill Will & DJ Rockstar Present Kajmir Royale - Internet Entrepreneur
Submitted by mfizzel on Wed, 01/20/2010 - 11:35am.
General | DJ Ill Will | Mixtape Torrents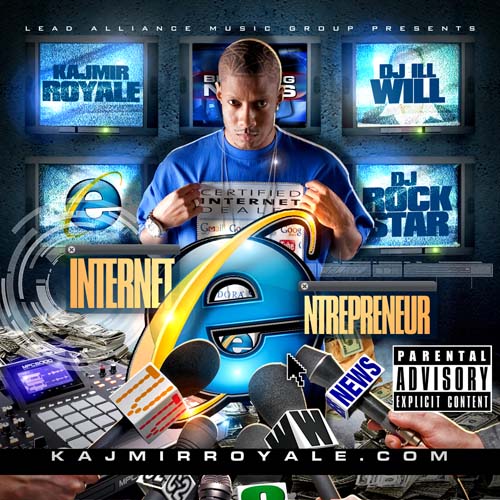 While producing instrumentals Kajmir honed his artist skills by practicing over
top of beats he sold to other artists, writing a 300,000 word rhyme dictionary,
and performing shows across the state of Colorado. On Jan 18, 2010 Super
Producer Kajmir Royale releases his first Mixtape as an artist titled 'Internet
Entrepreneur' hosted by LA based mixtape gurus DJ Ill Will & DJ Rockstar.
01. Warm Reception
02. Facebook Status
03. Follow Me (Twitter) Part 1 & 2
04. Use Me Ft Kidd Nuutron & V.Ness
05. Gift Her
06. Mac Vs Pc Ft Kidd Nuutron
07. Who She Fkin
08. Blue Ray Love Ft V.Ness
09. Nominate Me
11 While We Do It(Mac Sex)
11. Blank Screen
12. Numbers Don't Lie
13. I'd Download That Ft V.Ness
14. Skype(Ing) Ft V.Ness
15. Second Chance Ft Kidd Nuutron
16. Tron Won (Freestyle)
17. Ninja Video.Net
18. One Click Away
How To DOWNLOAD