Benja Styles & E-Ness - Philly United (Sound Of The Streets Vol 1)
Submitted by mfizzel on Thu, 09/25/2008 - 6:14am.
East Coast | Mixtape Torrents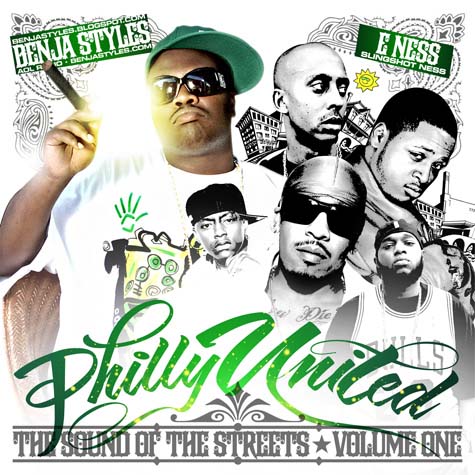 Shout to Benja Styles!
BENJA STYLES (www.myspace.com/benjastyles) is back with THE LOCKNESS MONSTA E
NESS (www.myspace.com/thelocknessmonsta) to bring you this brand new Philly
mixtape.
The mixtape is hosted by E NESS with brand new music from Philly artists, new E
NESS freestyles, and exclusive BENJA STYLES remixes.
Get ready for the E NESS vs MYSONNE rap battle in NYC.
Log on to www.wsohh.com for more details.
The battle's starts at 5pm Saturday September 27th.
1.E Ness Intro
2.E Ness "I Got Next"
3.Peedi Crakk "More Towels"(World Premiere)
4.Cassidy "How Real Is This"
5.Cyssero "Swag It Out"
6.E Ness & Oschino "James Brown"
7.Young Chris & Omilio Sparks Freestyle
8.Jakk Frost "I Like It"
9. Freeway "A2b"
10.Wale Ft Young Chris, Freeway, Beanie Sigel "Cyphr 08" (Produced By Dre &
Vidal)
11.E Ness "Time"
12.Gage "Look In The Mirror"
13.E Ness Interlude #1
14.Dj L Ft Junior Reid, Sheek Louch & Cassidy "Take It To The Top"
15.Cassidy "Apply Pressure"
16. Tone Trump "Thug'n"
17.E Ness "You Don't Know Me"
18.Jakk Frost, Peedi Crakk, Young Hot, Tana Da Beast "Do It For Ya'll"(World
Premiere)
19.Mike Knox "Flip A Clip"
20.Gillie Da Kid "Be Careful What You Wish For"
21.Jakk Frost "Ride On Ya'll"
22.E Ness "U Don't Wanna Battle Me"
23.Young Chris "Bullets" (Benja Styles Mix)
24.Freeway "Why Not"
25.Mikkey Halsted Ft Gillie Da Kid & Ab Liva "Till I Die"
26.E Ness Interlude #2
27.Vic Damone Ft Cassidy "Did That"
28.E Ness "All Out War"
29.Young Chris & Neef "Step Your Grind Up" (Benja Styles Mix)
30.E Ness "The Thug In Me"
31.E Ness "I'm In Rare Form
32.Jakk Frost, Oschino, Young Hot, N.H. "We Ridin"
33.Jazmine Sullivan "Bust The Windows" (Ladies Record)
34.E Ness Outro
How To DOWNLOAD