Kid Ink - Crash Landing (Hosted By DJ ill Will & DJ Rockstar)
Submitted by mfizzel on Mon, 11/15/2010 - 9:30am.
West Coast | DJ Ill Will | Mixtape Torrents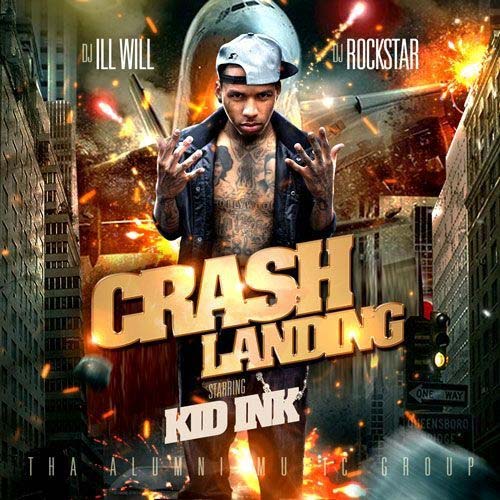 Tha Alumni Music Group Presents 23 Year Old Los Angeles Rapper/Producer/Songwriter Kid Ink and his 1st Official Mixtape "Crash Landing" alongside DJ ill Will & DJ Rockstar.
This project includes all original production and music written entirely by Kid Ink except for track 9 and includes features from the likes of Gudda Gudda, Roscoe Dash, Sterling Simms, Ty$, Bei Maejor, Ya Boy & Meek Mill. "Crash Landing" was A&R'd top to bottom by DJ ill Will.
01 - Crash Landing Intro Prod By Jaywan
02 - Keep It Rollin Prod By The Arsenals
03 - Take Over The World Feat Ty Prod By Ke
04 - Bathroom Feat Gudda Gudda Prod By Jahlil Beats
05 - Shorty Shorty Feat Roscoe Dash Prod By Ke
06 - Double Take Feat Bei Maejor Prod By Young Jerz
07 - Messin Up My High Prod By Famous
08 - Closet Freak Prod By Ke
09 - Dancing On My Bed Prod By Meco
10 - Gettin Good Feat Ya Boy Prod By Famous
11 - 360 Feat Meek Mill Prod By Jahlil Beats
12 - La La La Prod By Kajmir Royale
13 - Love Life Prod By Hit-Boy
14 - All I Know Feat Sterling Simms Prod By Raw Uncut
15 - Please Prod By Kajmir Royale
16 - Nightshift Prod By Ke
17 - Situation Feat Kyle Christopher Prod By Klasic
18 - Run This Prod By Kajmir Royale
19 - Take Me Down Feat Chrishan Prod By Jahlil Beats
20 - Bonus Track - Wait 4 Me Prod By Essay Potna
How To DOWNLOAD