DJ Ideal - UTP: The Movement Vol. 2
Submitted by mfizzel on Fri, 01/13/2006 - 8:18am.
Mixtape Directory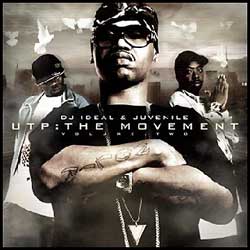 DJ Ideal is on the case for the follow-up to We On Bubble and he has
the New Orleans' Magnolia Boy Juvenile hosting this mixtape jumpoff.
The Movement continues on this crazy new joint with all-exclusive sh*t
from Juve & UTP, including new freestyles & tracks the crew members
Skip & Wacko + cameos by Trey Songz, Aretha Franklin, Cool & Dre.

1 - DJ Ideal & Juvenile - Intro
2 - Juvenile - Act You Know Me
3 - Juvenile - Got That Work
4 - Skip & Wacko - Keep Talking Out The Side of Your Mouth
5 - Juvenile Shout To Da Bottom Hood's
6 - Juvenile - Break A Brick Down (produced by Cool & Dre)
7 - Juvenile - Get Your Hustle On
8 - Juvenile - We Rock Like That
9 - Skip - Keep Actin'
10 - Back That Ass Up Interlude 1
11 - Wacko feat. PNC - Why Oh Why
12 - Juvenile - Come Out Yo' Laundry (remix)
13 - Juvenile The New Orleans Truth
14 - Wacko - Two Step
15 - In Ya Skit
16 - Black & Stone - Life of A D-Boy
17 - Juvenile Interlude
18 - Juvenile - Rodeo (produced by Cool & Dre)
19 - Juvenile feat. Rupee - Same Hustle Different Day
20 - Skip & Wacko feat. PNC - She Really Wanna Fuck
21 - Juvenile Don't Bootleg My Shit!
22 - Juvenile feat. Deepside - I'm Hot
23 - If You Don't Know Interlude
24 - Skip - Tribute To New Orleans
25 - PNC - Bounce For Your Money Ho
26 - Juvenile - Early Bird
27 - Juvenile New Orleans Roll Call
28 - Skip & Wacko - That's What You Got?
29 - Juvenile Representing
30 - PNC - I'm From A Town Called The N.O.
31 - Juvenile feat. PNC - Send the Work Down
32 - Red Eyezz Checks In
33 - Red Eyezz - Be Careful
34 - Back that Ass Up Interlude 2
35 - Trey Songz feat. Aretha Franklin & Juvenile - Just Gotta Make It (remix)
36 - Juvenile Outro
How To DOWNLOAD