DJ Cool Breeze - The Return of the Hot Boys
Submitted by mfizzel on Fri, 01/13/2006 - 8:10am.
Mixtape Directory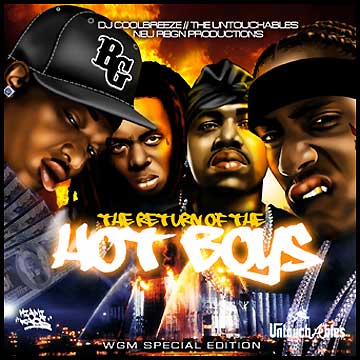 DJ Cool Breeze puts the Hotz Boys back together, at least in the
mixtape form, with this bangin' Cash Money-inspired mixtape featuring
all-new tracks from Lil' Wayne, B.G., Juvenile and Turk. Taking you
back to 1999 when these four assembled one of rap's baddest stable
of rappers. This mix features new tracks/remixes from the ex-crew...

1 - Intro - Lil' Wayne Speaks
2 - Best Rapper Alive - Lil' Wayne
3 - Trill - B.G. feat. Paul Wall and Bun B
4 - Rodeo - Juvenile
5 - Club Interlude - B.G.
6 - However Whatever - B.G. feat. Soulja Slim
7 - Fly As The Sky - Lil' Wayne, Chamillionaire and Rasaq
8 - Get Ya Hustle On - Juvenile
9 - Drag Em (Part 2) - B.G and UNLV
10 - Who Need a B - Juvenile, Bun B and Too Short
11 - Mackin and Pimpin - Turk and Kenoe
12 - I'm Wit Whateva - Lil' Wayne, Notorious BIG, Juelz Santana and Jim Jones
13 - Nutt Check - Lil' Wayne and Jody Breeze
14 - Animal - Juvenile
15 - Fireman - Lil' Wayne
16 - Triggaman - B.G. (Dissin Lil' Wayne)
17 - Come Out Your Laundry - Juvenile
18 - Gotta Show Me U Work It - B.G. and Webbie
19 - Back Dat Ass Up - Juvenile feat. Mannie Fresh and Lil' Wayne
20 - Walk It Off - Lil' Wayne
21 - Putcharaggsup Remix - B.G., Turk and Kenoe
22 - Money On My Mind - Lil' Wayne
23 - U Aint Crunker Than I Am - Juvenile and Tight
24 - You Nasty - Lil' Wayne
25 - Make It Work For Ya - Lil' Wayne, Young Jeezy and Juelz Santana
26 - Where Dey At - Juvenile feat. Big Floaty
How To DOWNLOAD