DJ 31 Degreez - March Madness '06 (Special Edition)
Submitted by mfizzel on Tue, 03/28/2006 - 12:13am.
Mixtape Directory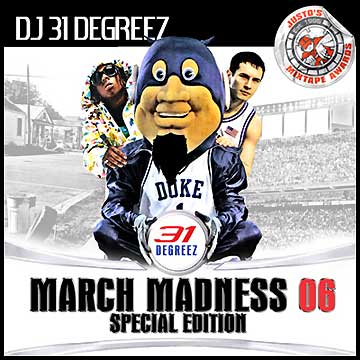 DJ 31 Degreez is deep in the post, his back to the hoop. Dude puts it on
the floor, moves right, spins left and slams this mixtape home with some
authority. Reppin' the Southern bracket, this competition mixtape hits hard
with prime-time players (PTP-ers baby!!): Weezy, Outkast, T.I., Slim Thug,
Trae/Jeezy, Magno, Kiotti, Shiest Bub dissin' Purple Ribbon + new UGK...

1 - Lil' Wayne - Pump That Base
2 - DJ 31 Degreez feat. Kiotti - College Campus
3 - Lil' Wayne - Mailman
4 - Young Jeezy & Fabolous – Trapstar (remix)
5 - T.I. & Brasco - Pimp Squad Party
6 - Slim Thug & J.R. Writer - Houston To Harlem Collars
7 - Pimp C & Brooke Valentine - Dopeboy & Dopegirl
8 - Trae, Young Jeezy & Boss - White Bricks
9 - Magno, Ryno & Charlie Boy - Snap Ya Fingers
10 - Roam Bad Daddy - Son Of Deadbeat
11 - Outkast, E-40 & Goodie Mob - Coupe Devilles
12 - Shiest Bub - Started This Purp Shit (Dissin' Big Boi & Purple Ribbon All-Stars)
13 - Dem Franchise Boyz - Watch Out [not on album]
14 - Smitty & Chingo Bling - You Already Know (Listen Baby)
15 - T.I. & Juelz Santana - What You Know (remix)
16 - Juelz Santana - Could You?
17 - Yo Gotti – Major (produced by Mannie Fresh)
18 - J.R. Writer - I'm Serious (Dissin' Jay-Z)
19 - Sqad Up - Traphouse
20 - E-40, Juelz Santana, Bun B & Pimp C - White Girl
21 - Question - Deez Nutz
22 - Juvenile & Fiend - So Gone
23 - Three Six Mafia, Project Pat, BG & DMX - Poppin My Collar (remix)
24 - Pimp C & Bun B - You'z A Trick
25 - J.R. Writer & Slim Thug - We Gets Money
26 - DJ 31 Degreez feat. Lil' Weavah - Real Talk
27 - Kiotti, Roam Bad Daddy, Smitty & Chris Rock - Its Freezing Today (Outro)
How To DOWNLOAD