Clinton Sparks & DJ E-Rock - Welcome To The US Of Bay
Submitted by mfizzel on Thu, 08/17/2006 - 4:07pm.
Dirty South | Clinton Sparks | Mixtape Torrents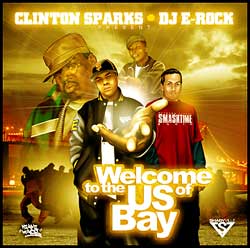 Mr. Get Familiar Clinton Sparks hops in the whip — and then right out — on his way to ghostriding from
Bean Town to the Bay Area for this Bay Area mixtape compilation.
Teaming up with the Bay Area's DJ E-Rock (whose BombBay Radio show on Sirius recaps the Bay's hottest
music weekly), Clinton brings you a combination of that dummy-retarded, hyphy, thizz, pimped-out style
the Bay Area is known for.
Taking you from the 415 (the Sucka Free) to the 510 (the 'O'), this mixtape features 30+ tracks,
freestyles and exclusives, including a new E-40 track produced by Sparks + new tracks from Too Short &
Mistah F.A.B., Balance, Keak Da Sneak & Lil' Wayne, Yukmouth, Ya Boy, The Federation, The Wolfpack, Nump,
J Valentine & Bailey and more.
1 - Get Familiar W/ The Bay Intro
2 - E-40 - Dumb Hyphy [produced by Clinton Sparks]
3 - Too Short & Mistah Fab - Sideshow 2006
4 - Turf Talk - Hood Hop
5 - The Pack Feat. Too Short & Mistah Fab - Vans Rmx
6 - Hollywood Feat. San Quinn - Put It In Motion
7 - Droop-E & B-Slim feat. E-40 - Pause
8 - Keak Da Sneak feat. Lil' Wayne - Pass The Drank
9 - E-40 Congratulation (Interlude)
10 - San Quinn feat. DPG - Fyt (Fresh Young Thing)
11 - Hoodstars feat. The Federation - You Know
12 - The Pack - Club Stuntin
13 - Ghostridin 101 (Interlude)
14 - Mistah Fab - Ghost Ride It
15 - Then There Was Hyphy (Interlude)
16 - J. Valentine feat. Keak Da Sneak - Keep It Going
17 - Boo Banga feat. Bailey & Selau Candy
18 - Bullys With Fullys feat. Keak Da Sneak - Trill Talk
19 - Balance feat. Glasses Malone & Rank 1 - Let'S Go
20 - We Got Our Own Slang (Interlude)
21 - The Federation feat. E-40 - Stunna Glasses At Night
22 - Big Rich - Perfect Timing
23 - Yukmouth (Freestyle)
24 - Nump Feat. Balance - Groupie
25 - Blue Chip - Closer Than Close
26 - Ya Boy (Freestyle)
27 - Balance - Boomin System 2K7
28 - Bailey - Damn Right
29 - Nump (Freestyle)
30 - Neyo The Great - Superstar
31 - The Jacka - Exclusive
32 - Fliistyles - Super Sport
33 - Bay Area Outro
34 - Too Short Feat. Snoop & Will.I.Am - Keep Bouncin
35 - Get Familiar - Smashtimeradio Vol. 1 Featuring Kanye West
How To DOWNLOAD