DJs Whoo Kid & E-Rock - Bay Bidness: The Mixtape
Submitted by mfizzel on Fri, 03/10/2006 - 6:44pm.
Mixtape Directory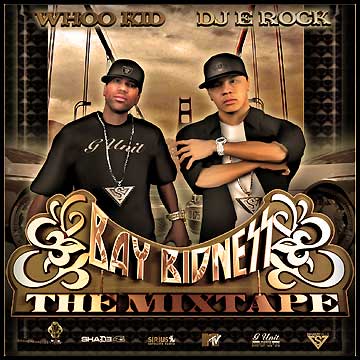 DJ Whoo Kid teams up with Shadyville nation DJ E-Rock to bring you
the latest hyphy coming out of the Bay Area. Taking you from the 510
(Oakland) to the 415 (San Francisco), this mixtape bangs out tracks &
freestyles from Keak Da Sneak, Mistah F.A.B., The Team, Federation,
E-40, Ya Boy, Turf Talk, B Legit, San Quinn, Balance, E.A. Ski & more.
1 - Nump - I Got Grapes
2 - DJ Shadow - Keak Da Sneak & Turf Talk - 3 Freaks
3 - Federation - Hoes In here
4 - Mistah F.A.B. feat. Messy Marv & Mr. Kee - The Streets Are Mine
5 - Ya Boy feat. Jin The Emcee - 16's Wit Us
6 - The Team - That Team Is Us
7 - Mistah F.A.B. feat. G. Stack & Bavgate - New Oakland
8 - B Legit & Clyde Carson - Block 4 Life
9 - San Quinn feat. E.A. Ski & Allen Anthony - Hell Yeah
10 - J Valentine feat. Bailey - Go Dumb
11 - The Mossie feat. Mistah F.A.B. - Throw It Up (produced by Droop E)
12 - Federation feat. Busta Rhymes & El Dorado Red - Twerk Something
13 - Damani feat. Keak Da Sneak - Gotta Stay Paid
14 - FedEx - Losin It
15 - Ya Boy Freestyle
16 - Stressmatic Federation Freestyle
17 - Keak Da Sneak - Say It Ain't So
18 - E-40 - Tell Me Something Slick
19 - Turf Talk - Hustler
20 - Hoodstarz feat. Mistah F.A.B., Clyde Carson & Turf Talk - Grown Man (remix)
21 - Da Musicianz feat. The Federation - Go Dumb (remix) [produced by Rick Rock]
22 - E-40 feat. Keak Da Sneak - Tell Me When To Go (produced by Lil' Jon)
23 - Balance feat. E.A. Ski - Gotta Get It
24 - Droop E & B Slim - It's Too Easy
How To DOWNLOAD