DJs Whoo Kid & E-Rock w/ E-40 - Bay Bidness Part 2
Submitted by mfizzel on Wed, 07/05/2006 - 9:48am.
Dirty South | DJ Whoo Kid | Mixtape Torrents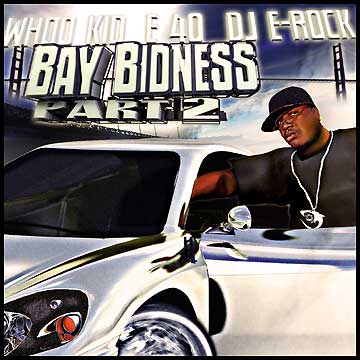 The first time that DJ Whoo Kid was ghostridin' out in the Bay
Area with DJ E-Rock, it was right before the Bay Area's Charlie Hustle
E-40 dropped his album My Ghetto Report Card. From the Bay to LA and
across the nation, the hyphy movement was catching on.
With the single "Tell Me When To Go" tearing up the Billboards in early
'06, the Bay Area was finally being recognized as a mainstream hip-hop
harbor. Or as Forty would put it, they were finally getting their propers.
Three months later, Whoo Kid joins E-40 and E-Rock (40's DJ) to put down
the sequel to the Bay Area's official mixtape.
This mixtape features Bay Area slumpers from E-40, Keak Da Sneak, Balance,
Too Short, Mistah F.A.B. (Dow Jones, Mistah F.A.B. & MixUnit mixtape
coming soon!), Turf Talk, The Federation & El Dorado Red, The Team, Big
Rich, Bailey & Keyshia Cole and more.

1 - E-40 Freestyle [produced by D Cyde]
2 - E-40 feat. Keak Da Sneak & Turf Talk - Muscle Cars
3 - Keak Da Sneak - On Citaz
4 - Cellski - We Go Scrape
5 - Turf Talk feat. Dem Hoodstarz - Wakin 'Em Up
6 - The Team - This Is My Song
7 - The Wolfpack - Vans
8 - E-40 feat. Too Short & Al Kapone - Come Get Some [produced by Lil' Jon]
9 - The Mossie feat. JayTee - Hustlinaire
10 - Bailey feat. Keyshia Cole - My Baby
11 - The A'z - Yadadamean
12 - Mistah F.A.B. - Don't Know
13 - Doey Rock Freestyle
14 - Balance - Grind
15 - Big Rich - That' The Bidness [produced by E.A. Ski]
16 - The DB'z feat. Mugzilla & Donnie Baby - Off Safety [produced by Droop E]
17 - Dem Hoodstarz - Get That Gwop
18 - The Federation feat. El Dorado Red - Passed Away
19 - The A'z Coastin'
20 - Keak Da Sneak - Soar Raps [produced by Jake One]
How To DOWNLOAD