Clinton Sparks & Kanye West - Touch the Sky
Submitted by mfizzel on Mon, 01/23/2006 - 3:41pm.
General | Clinton Sparks | Mixtape Torrents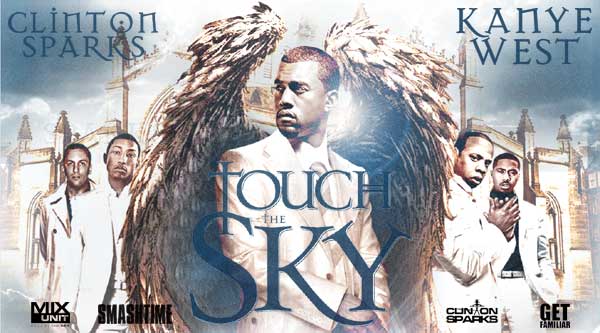 Clinton Sparks is back with his 2nd mixtape of 2006 after being recognized by Rolling Stone magazine as one of the Top 10 Mixtape Producers at the end of 2005. He gets the ultimate endorsement here though, as Kanye West gets on board to host this special mixtape prelude to Sparks' Get Familiar, vol. 1 debut album (due out later this year!!). Clinton and the Grammy award-winning artist/producer fly into 2006 with Touch The Sky as the duo serves up an all-exclusive mixtape featuring all original tracks produced by Sparks. Over 30 exclusive tracks featuring Kanye West, Busta Rhymes, Pharrell, N.O.R.E., Notorious B.I.G. & Diddy (new sh*t), Q-Tip, Nas & Jay-Z, Sheek Louch/Styles P/J-Hood, Mike Jones & Slim Thug, Freeway, Kardinal Offishall, Peedi Crakk & Young Chris, Lil' Kim and more. This mixtape also features exclusive freestyles and guest appearances from Sparks' award-winning globally syndicated radio show Smashtime Radio. With Kanyeezy on the co-sign and Mr. Get Familiar behind the boards, all there is left to do is...GET FAMILIAR!
1 - Clinton Sparks Intro
2 - Kanye West Intro - Coronation [prod. by Clinton Sparks]
3 - Kanye West, Bump J & Sly Polaroid - Freestyle
4 - Pharrell & N.O.R.E - Yeah Nigga [prod. by Clinton Sparks]
5 - Busta Rhymes feat. Dr. Dre - Look Who [prod. by Clinton Sparks]
6 - D-Block feat. Sheek, Styles P & Jae Hood - Take Everything [prod. by Clinton Sparks]
7 - Diddy & Notorious B.I.G - Welcome To Bad Boy [prod. by Clinton Sparks]
8 - Kanye West - So Offensive [prod. by Clinton Sparks]
9 - Freeway feat. Jay-Z - R.O.C. Too Strong [prod. by Clinton Sparks]
10 - Notorious B.I.G - Rap Phenomenon Pt. II [prod. by Clinton Sparks]
11 - Lil' Kim - Get Touched [prod. by Clinton Sparks]
12 - Kanye West - Blow Your Mind [prod. by Clinton Sparks]
13 - Nas & Jay-Z - Twin Towers [prod. by Clinton Sparks]
14 - D-Block feat. Styles P - Ready To Dump [prod. by Clinton Sparks]
15 - Slim Thug - Round Here [prod. by Clinton Sparks]
16 - D-Block feat. Sheek Louch - Set It Off [prod. by Clinton Sparks]
17 - Alicia Keys (Live On SmashTime Radio/Shade 45 with Clinton Sparks)
18 - Ludacris & Shawnna - He Said, She Said [prod. by Clinton Sparks]
19 - Mike Jones & Slim Thug - H-Town [prod. by Tombstone & Clinton Sparks]
20 - N.O.R.E feat. Pharrell - Watch Me Now [prod. by Clinton Sparks]
21 - Kanye West - Sophomore Slump (Interlude)
22 - Busta Rhymes feat. Pharrell - Followers [prod. by Clinton Sparks]
23 - Q-Tip - Freestyle (Live On SmashTime Radio/Shade 45 With Clinton Sparks)
24 - Kardinal Offishall - GFN [prod. by Clinton Sparks]
25 - Kanye West & Busta Rhymes - Love To Hate [prod. by Clinton Sparks]
26 - Peedi Crakk & Young Chris - Freestyle (Live On SmashTime Radio/Shade 45) [prod. by Clinton Sparks]
27 - Papoose - Freestyle
28 - Remy Ma - Freestyle (Live On SmashTime Radio/Shade 45 With Clinton Sparks)
29 - Bossman - Untouchable [prod. by Clinton Sparks] (Baltimore)
30 - L.T. - Rain When Its Hot (Boston)
31 - Kanye West Outro
32 - SmashTime Radio // Get Familiar
INTERNATIONAL BONUS TRACKS
33 - Edison Chen - Get Familiar Freestyle (CLOT, Hong Kong)
34 - Sway - No Doe, No Show (UK)
How To DOWNLOAD