Tru Life - New New York (Hosted by DJ Green Lantern & DJ Kay Slay)
Submitted by mfizzel on Tue, 11/22/2005 - 7:45pm.
East Coast | DJ Green Lantern | Mixtape Torrents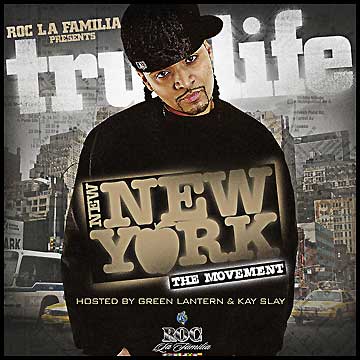 Tru Life arrives on the mixtape scene shortly after being recruited by
President Carter to join Roc-La-Familia/Def Jam a couple months ago.
This official R.O.C. mixtape is certified by mixtape legends DJ Green
Lantern (welcome back!) and Kay Slay, so the authenticity isn't any
question. Nothing but exclusives, new freestyles & pure NYC anthems.
1 - Intro
2 - Block Music
3 - Blood Money
4 - Like A Cycle
5 - Gunshots
6 - Tru Life Speaks
7 - The New New York [produced by 9th Wonder]
8 - Breathe In My Lungs [produced by Rocwilder]
9 - Sellin' Drugs Skit
10 - All Night Long
11 - Tru Life Speaks 2
12 - Life Is Like A Movie
13 - Not Like Me
14 - Tru Life Speaks 3
15 - The Picture Man
16 - 42nd Street
17 - Murda Was The Case
18 - Lifestyle
19 - 22 Two's
20 - Tru Life Outro
How To DOWNLOAD