Rhymefest - Plugg City: City On My Back
Submitted by mfizzel on Mon, 04/03/2006 - 10:51am.
Mixtape Directory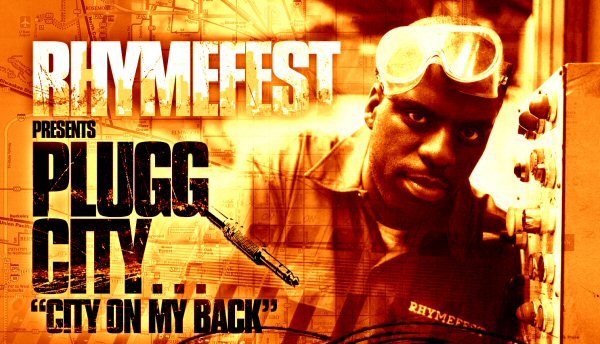 For those unfamiliar with Chicago MC Rhymefest, don't get it twisted.. this cat is no joke. Beating Eminem in a battle rap back in the day is his claim to fame, and he demonstrates his lyrical skills to the fullest on this bangin' mixtape. Puttin' the Chi on his back, 'Fest is definitely reppin' the Midwest hard and keepin' it real in the process.
Most recently and most notably, Rhymefest collaborated with Kanye West on the radio smash hit record "Jesus Walks," off the ground-breaking album The College Dropout. Rhymefest earned the Grammy Award for Best Rap Song, along with West, for co-writing the song.
Set to release his official debut album in May of this year, this mixtape gives you a little preview of what's in store for The Blue Collar MC in 2006. Featuring Kanye West, Talib Kweli, Common, Q-Tip, Bump J, No I.D., Twan Gabbz, Mikkey & more.

1 - Dynomite (Going Postal) - Rhymefest
2 - Southside - Rhymefest, Mikkey, Twan Gabbz
3 - Gone - Kanye West feat. Rhymefest
Family Affair (Interlude)
4 - Tired of Playin' - Rhymefest, Twan Gabbz, Diamond
5 - L.S.D. (Lake Shore Drive) - Rhymefest feat. Carl Thomas
6 - Chicago-Rillaz - Rhymefest feat. Mikkey & Bump J
Gang Land (Intermission)
7 - Swing & Fest - Swing feat. Rhymefest
Napoleon Dynamite (Skit)
8 - My Beat - Rhymefest (Produced by Rhymefest)
9 - Tender Thug - Rhymefest & Mike Payne
10 - Steppers & Skaters - Twan Gabbz feat. Rhymefest
11 - Bump My Shit - Mikkey
12 - Still Singin' 2006 - Rhymefest
Plugg City Shout Outs
13 - Drifter - Rhymefest & Mikkey
14 - Flavors - Krillz, Trillogy, & Rhymefest
15 - Make It Better - Kanye West, Talib Kweli, Q. Tip, Common, Rhymefest
16 - Grind Mode - Mass Hysteria
17 - Sign of the Times - Prince feat. Rhymefest
How To DOWNLOAD