P-Cutta - Art Of War #3
Submitted by mfizzel on Thu, 05/11/2006 - 6:54am.
Mixtape Directory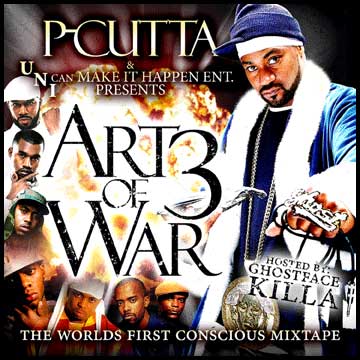 P-Cutta & production team UNI Can Make It Happen produced the
first NYC-style conscious mixtape series. Featuring thoughtful music
from some of hip-hop's foremost educators, thinkers & narrators, this
edition is co-signed by Ironman Ghostface Killah. More than 35 tracks
from Nas, Common, Planet Asia, Saigon, Little Brother & Mos Def, DJ
Green Lantern w/ deadprez/Immortal Technique, Talib Kweli, Papoose...

1 - God's Plan
2 - P-Cutta & Ghostface Intro
3 - Ankh Amen Ra feat. Bob Marley – Shot Down
4 - Army Skit
5 - Nas – Million March
6 - Ghostface – Momma
7 - Illinoise feat. Sade – U And I
8 - T.I. feat. Common – Good Life
9 - Ankh Amen Ra – Flying
10 - Illinoise – Fly Away
11 - Planet Asia – Gangsta, Gangsta
12 - Little Brother feat. Mos Def – Let It Go
13 - Bob Marley Skit
14 - T.I. – Live In The Sky
15 - Ankh Amen Ra – Kenya
16 - What Are You Gonna Do Skit
17 - Saigon – Contraband Pt. 2
18 - Ankh Amen Ra – Art of War Freestyle
19 - Illinoise – Scarface (produced by JB/UNI Productions)
20 - Black Star – Born And Raised
21 - Survive Skit
22 - Ryan Banks – I Pray
23 - Talib Kweli feat. Papoose – The Beast
24 - Common – Retrospect Life
25 - Talib Kweli – Ms. Hill
26 - Ankh Amen Ra – Feel How I Feel
27 - Chyna White feat. Lil Scrappy – Hurricane Katrina Tribute
28 - We Are Connected Skit
29 - Illinoise – Me & My Pad (produced by Beathowen/UNI Productions)
30 - Ankh Amen Ra – Mulu
31 - Illinoise feat. Falomi – Everything Is You (produced by Beathowen/UNI Productions)
32 - Chamillionaire feat. Papoose – Ridin Dirty RMX
33 - Born Black Skit
34 - DJ Green Lantern feat. Dead Prez, Immortal Technique & Saigon – Impeach The President
35 - Veks One feat. Akir – Close Ur Eyes
36 - Shadow – Do It All Again
37 - Ludacris – In The Depths Of Solitude (A poem written by Tupac Shakur)
How To DOWNLOAD