MTV's Mixtape Monday Jan. 16th '06
Submitted by mfizzel on Mon, 01/16/2006 - 1:49pm.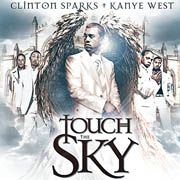 DJ and MC: Clinton Sparks and Kanye West

Mixtape: Touch the Sky

411: We told you about this record a few weeks back, and it actually plays like a real compilation. The disc features mostly new beats produced by Clinton Sparks, with cats including Biggie, Diddy, Lil' Kim, Busta Rhymes, N.O.R.E. and host Kanye West rapping. Sparks has a real LP coming soon — as soon as he leaves some record executive's pockets looking like rabbit ears.

Joints To Check For
* "Blow Your Mind" by Kanye West. West has a few raps on the CD, and on this song, about 12 tracks in, Yeezee is testifying and ruminating. "I asked God to help me fly away/ And if not then please keep your eye on me/ These n---as is bringing out the worst of me."
* "Get Touched" by Lil' Kim. There's actually two new Kim verses on this record. The Queen Bee spit these rhymes before she went to the pen, and they almost made it onto her album The Naked Truth. Luckily for Sparks, they didn't, and he was able to secure her vocals for his mixtape. "Haters can kiss my bikini wax/ And if you seen the facts/ You know the Queen is back."
* "Take Everything" by D-Block. Sparks produced this track and did a mean job of flipping the theme song to "Cheers" for the beat (Sparks is from Boston after all). Sheek, Styles and J-Hood rhyme about bringing back the season of the vic — and they're talking robberies, not Atlanta Falcons quarterback Michael Vick.

Don't Sleep: Other Notable Selections This Week
* DJ Drama's Saigon
* DJ E. Nyce and Postaboy's Real Recognize Real
* DJ E. Nyce and Jae Millz's Nothing but Freestyles
* Termanology's Unsigned Hype
* DJ Lex's R&B in the '90s
* J Bravo's Listen and Learn: When Disaster Strikes

'Hood's Heavy Rotation: Bubbling Below The Radar
* "I Ain't Worried About It" by Keith Murray
* "Never Snitch" remix by Scarface featuring Beanie Sigel and the Game
* "Funkmaster Flex Dis" by DJ Spinbad
* "Can I Take You Home" remix by Jamie Foxx featuring Chamillionaire
* "Across the Tracks" by Papoose and Nas
* "Fire" by Petey Pablo
* "Best Friend" remix by 50 Cent featuring Olivia
* "Thug Love" by Remy Ma featuring Big Pun
* "Jump Back" by Chino XL featuring W.C.

Celebrity Favs
DMX messes with Busta Rhymes. The two just completed a remix for Bus' song "Touch It," and X says the former dred is definitely "his mans and them."
"We was in there till like four in the morning chilling," X described of the studio experience. He said the energy in the studio is 10 times what they have onstage.
"We get everybody in the studio amped," Dark Man continued. "It's that much energy floating around. And he's a good dude. Busta is someone I really respect in the industry and get along with. We see each other, we hang out. I don't f--- with that many rappers. For the most part, n---as are clowns. I crack a few jokes but I can't f--- with funny style people. [Busta's] a genuine person, so is Nas, so is Scarface. Them has been my people for years."

The Streets Is Talking: News & Notes From The Underground
Last week we had the chance to hear some fire from a couple of albums that are dropping soon: Remy Ma's There's Something About Remy: Based on a True Story and Mobb Deep's Blood Money.
Rem has definitely established that she's more than just a spitter. She really can make records, and Fat Joe (the album's executive producer) should be smiling ear to ear right now. Ne-Yo, Ivy Queen and Keyshia Cole all appear.
Mobb Deep's LP is a Mobb LP, meaning that all the people who feared that the group was going to drastically switch up its style because it signed to G-Unit can stop worrying. Havoc and Prodigy are giving you the vintage talk over some ill production. There's a record called "Pearly Gates" with 50 Cent that's both dope and controversial, with the three MCs talking about going to heaven. And P is spitting as hard as he was in the Hell on Earth and H.N.I.C. days on one song that has him rhyming about his name. Lunacy!
The Mobb say they have a mixtape coming out soon, and if you've been listening to the underground circuit, you know there's been some jabs both blatant and subliminal being thrown by the Mobb and at the Mobb. We went through the laundry list and asked them about each one.
* On the possibility of being involved in 50 Cent's beefs:
Prodigy: "We don't give a f---. We do us, Mobb Deep. We don't care about nobody else really."
Havoc: "We're here to make that music. If people want to hate and involve us, it's whatever. But at the end of the day, we're here to make that music."
* On being called out by the Game:
Havoc: "I never worked with Game. I gave Game a track. I don't know nothing about him other than what I see him doing with all the off-the-wall remarks. He don't know me. Everything coming out of his mouth talking about me is false. He never met me a day in his life."
* On their one-time good friend and collaborator, Nas:
Prodigy: "Basically, like I said, we don't give a f--- about nobody else. What happened in the past is the past."
Havoc: "We don't have no communication."
* On stirring things back up with Jay-Z:
Prodigy: "I take my shots and, whatever, [Jay] takes his shots. What is he gonna do?"
Havoc: "Basically we're here to do this music. Rap is competition. Hopefully it's all done tastefully. And we're here to make good records at the end of the day. When you hear that album, that's all you're gonna think about." ...
"Sometimes you need to go to your brothers and you vent with them, and they vent with you and they tell you where they feel you should be at. I'm always gonna be a good listener," Raekwon said last week about his relationship with Busta Rhymes. Busta is the co-executive producer of Rae's upcoming Only Built for Cuban Linx 2 LP.
"To make a long story short, he's there out of being a good friend," the Chef continued. "Our whole train of thought was started like that. It wasn't started on the fact I need Busta or Busta needed Raekwon. Busta and Rae just get down like that. He came over and gave me food for thought. It's not just business."
Busta raps on Rae's new "State of Grace" remix, which just hit mixtapes.
"RZA made the beat," Raekwon explained. "It was a vintage beat out of RZA's catalog. I made [the original version]. It was dope. Busta wasn't there when I made the record, but when he heard it, he was like 'Yeah, fam. That's how you do it. That's what I need to see.'
"That was just fun, that's small stuff on what I'm doing now," Raekwon said, comparing mixtape tracks like "No Joke" and "State of Grace" to the songs on his upcoming album. "A lot of them songs you hearing is just me giving y'all egg rolls, shrimp rolls. The entrée is coming."
Rae just released The Vatican his first mixtape to hit streets in a long time.
"The Vatican CD is basically from back then to now," he added. "Rae's all over it. If you really know what the Vatican is, it's a secret society, a conglomerate of dudes that I feel play a part in my career. Busta is part of the Vatican. Certain dudes is part of the Vatican only because they've been around my circuit and I've been around their circuit. I didn't want no DJs talking on [the mixtape]. I wanted it to be a CD you can just throw in and say, 'Can I still mess with Rae?' People have to start recognizing I'm still here. We made the CD to let everyone know, 'Get ready. Taste this.' " ...
Before DMX announced his deal with Sony Music, there was talk that he might go to G-Unit. The Dog says the rumors were unfounded and false. "I'm cool with 50, but the most we discussed was doing a project called The Best of Both Hoods, or something like what Jay-Z and R. Kelly did [with The Best of Both Worlds]. I was still signed [to Def Jam] at the time, but I wasn't going [to G-Unit]. I couldn't do that." ...
Finally, there are some really interesting mixtapes out there this week. Saigon teams up with DJ Drama for a tape, and raps some brow-raising lines about Biggie. And Postaboy put out a new disc with a bunch of material he recorded before he was diagnosed with cancer.
How To DOWNLOAD