MTV's Mixtape Monday Jan. 9th '06
Submitted by mfizzel on Mon, 01/09/2006 - 11:24am.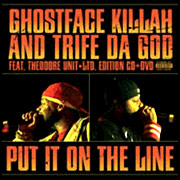 Artists: Ghostface and Trife Da God

Representing: Staten Island

Mixtape: Put It on the Line

411: This album went totally under the radar when it was released during the Christmas holiday. Ghost and his protégé Trife Da God released it to some mom and pop stores and are letting word of mouth push it. Originally, Ghost and Trife were supposed to release the joint LP From Stapleton to Somalia on Koch but the two never finished recording it for a slew of reasons, one being that Ghost had to finish up his next solo opus for Def Jam (he's done now). With some songs already in the can from another album they were recording, Ghost and Trife paired those with some of the finished joints from From Stapleton to Somalia and even slipped in a few Ghost classics to make Put It on the Line (which is really more of an indie album than a mixtape, in that it contains songs instead of freestyles). Trife has been featured on several tracks alongside Ghost in the past but has been finding it difficult to avoid being overshadowed by Ghost's ingenious abundance of rhymes, flow and personality. Trife does get to shine here, though, with his own solo tracks and an improved mic attack when he raps with Ghost. Meanwhile, Tony Starks may be the best storyteller in the game right now — just listen to songs like "Struggle" and "Project Soap Opera."

Joints To Check For:

* "Drugz." "Them drugs is not mine" — how often does a vice squad officer hear that during the year? But what if the perp in question really did not have narcotics? Trife raps about being set up by the police and takes us from his arrest to the bail hearing.
* Limited-edition DVD. This bonus DVD features Ghost's entire concert at B.B. King's in New York last October. Trife and the GZA make guest appearances, but it's really all about Tony Starks as he performs his greatest hits.
* "The Watch" featuring Raekwon and "The Sun" featuring Raekwon and Slick Rick. These two classic tracks were not included on Bulletproof Wallets due to clearance problems. The tracks have been relegated to underground status and have been hard to cop — luckily they both resurface here.

Don't Sleep: Other Notable Selections This Week

* Joe Budden's Mood Muzik 2
* Big Mike's Big Boy Game #3
* DJ E. Nyce's Nothing But Freestyles
* Saigon's Welcome to Saigon
* DJ Semi's Biggie Smalls Live
* T.I.'s The Leak
* DJ Wonder's There Goes the Neighborhood

'Hood's Heavy Rotation: Bubbling Below The Radar

* Fat Joe featuring Young Neech - "N---az Get Killed for Less"
* Ghostface featuring Neo - "Like That"
* Maino - "Shoot Em Up"
* Mobb Deep - "We on It"
* Rick Ross - "Everyday I'm Hustling"
* Raekwon - "Range Rover"
* Raekwon featuring Busta Rhymes - "State of Grace" remix
* Skillz - "05 Wrap Up"

Celebrity Favs
Houston's Paul Wall is such a sports fanatic that he says if Roger Clemens signs back with the Houston Astros, he'll give his kid the middle name of Roger. (Coincidentally, Clemens can re-sign with the Astros on May 1, the same day Wall's pregnant wife is due.) But his love of the Astros can't compare to how Wall loves UGK's Pimp C. Paul is ecstatic he no longer has to yell "Free Pimp C!" The Pimp is out. "I couldn't wait," Wall beamed about Pimp's release from prison. "I was talking to his momma all week anticipating his arrival. Everybody I talk to is like, 'Yeah, I got a song for him.' So he's gonna be one of the most talked-about artists of 2006. He's gonna be on so many different artists' records. A lot of people been waiting for his music. He's been gone for few years now, they wanna hear some new music from him. Being his number-one fan, I can't wait."

The Streets Is Talking: News & Notes From The Underground
Mary J. Blige has been rapping sparsely here and there since her first LP, What's the 411? But on her new album, The Breakthrough, she's spitting a lot more than usual and using an alias: Brook. Yeah, that's no guest performer sounding eerily like MJB on her album, Brook is Mary. The queen of hip-hop soul said she chose to use the alter ego because Brook is a real cocky rapper and Mary doesn't usually rhyme brashly.
Last week Queen Latifah became the first hip-hop artist to get a star on the Hollywood Walk of Fame. The Queen, whose new movie with LL Cool J, "Last Holiday," comes out on Friday the 13th, says she realized early on that she had to multitask. "It's important that you don't rely on one thing," she said. "For me in the very beginning, I said, 'If I'm not the best rapper ever there's no way I am going to put all of my eggs in one basket,' and I never felt like I was the best rapper on earth. What artists have to realize is everything has a value. You are a brand and you need to treat yourself as such. All of the talent that you have should be explored. If you can act, why shouldn't you? If you can write books, why shouldn't you? If you can write scripts or are a great public speaker, why shouldn't you lecture?"
Young Jeezy, T.I. and Lil Wayne are planning more dates of their Georgia Power Tour. Jeezy said the collective wants to hit cities out west and up north. In the meantime, he's continuing to record. He just finished upcoming singles from Snoop Dogg and Christina Milian respectively and may even do another track with UGK.
"I got a call yesterday from Pimp C and Bun B," Jeezy divulged. "Like I told Bun, he's what you call a triple OG. [Bun] kept the UGK movement alive while his man was in prison. He ain't miss a beat. When they do another UGK album, it's gonna be crazy because everybody wants to hear it. They're pioneers of the game."
After the platinum-plus success and street lauding of Jeezy's debut Let's Get It: Thug Motivation 101, everyone certainly wants to hear what the Snowman is bringing to the table in '06. "I'm already ready with the second album," he said. "I know this album was classic, my second album is going to be more of a classic. Thug Motivation was a good Friday out of my life, the new album is going to be a Saturday out of my life. Everybody knows Saturdays are going to better than Friday."
If you haven't heard it, you'll be hearing a lot of it soon, so don't get confused when you check out the hot new Ghostface single "Like That." The record isn't on the aforementioned Put It on the Line, it's actually the first single from his upcoming Fishscale LP, which will drop in late February or March.
In the song, Ghost is knee-deep problems on the home front when his vengeful girlfriend starts creeping with one of his bitter enemies (he admits to having an affair of his own but insists you don't get back at somebody like that). The record starts off with Tony Starks taking everything back he bought for his chick, including the rock on one of her digits ("Oh, it's stuck? I'll take the whole finger then," he sarcastically demands) and the puppies.
Newcomer Neo — who is making a name for himself with his own scorcher, "So Sick" — guest stars on the track and is elated.
"Ghostface is one of the most original hip-hop artists around," Neo said over the weekend. "He's a legend. Just to be considered for the song was an honor. He's true hip-hop."
How To DOWNLOAD