Lupe Fiasco: Touch The Sky (Mixed By DJ E.NYCE)
Submitted by mfizzel on Mon, 05/01/2006 - 6:12am.
Mixtape Directory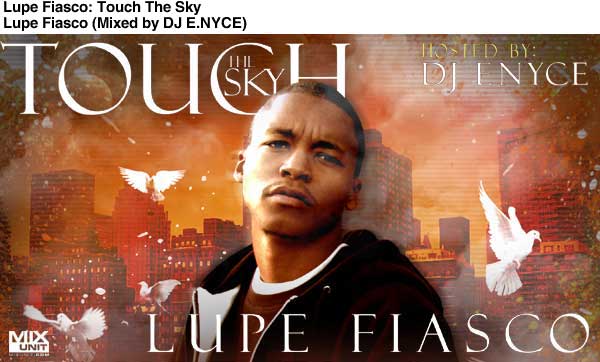 Obsessed with fresh skateboards and unconcerned about what other emcees are about, Lupe Fiasco is on the leading frontier of hip-hop's progressive new school. Representing Chicago's West Side, the 24-year-old has been hailed a leader of the new generation of conscious rappers unconcerned with guns, gangs and its empty glamorization.
You were likely first introduced to Lupe Fiasco upon hearing Just Blaze's addictive manipulation of Curtis Mayfield's horns from "Move On Up." Asked by Kanye West to anchor "Touch The Sky" (the 4th single from Ye's multi-platinum Late Registration), the Windy City's premier young rapper has since become one of the most buzzworthy emcees in hip-hop. Originally signed to Atlantic Records in 2004 after negotiations with Def Jam fell though, Lupe is nonetheless slated to release his major label debut alongside executiveproducer Jay-Z when he drops Food & Liquor later this year.
With a "peachfuzz buzz, but beard on the verge," Lupe is kicking and pushing his way to the top of hip-hop circles with clever lyrics, a skate-infused hip-hop style and a slew of co-signing hip-hop heavyweights that includes Kanye, Jay-Z, Ghostface, Pharrell and others. With Lupe already locking up deals for his own label (1st & 15th) and his own design/streetwear company (Righteous Kung Fu), the Sky is the limit for Lupe.
1 - Intro
2 - Hustlaz Song
3 - Twilight Zone
4 - Absolutely Fiasco
5 - Kick, Push
6 - Conflict Diamonds
7 - Touch The Sky feat. Kanye West
8 - Lupe Talks To The People
9 - 1st & 15th Is Back
10 - Lu Myself
11 - Tilted pt. 3
12 - Switch Science Project
13 - Spray Paint feat. Ghostface & Mike Shinoda (of Fort Minor)
14 - Outty 5000
15 - Lupe New York Love Interlude
16 - Dead Presidents Resurrected
17 - Ignorant Freestyle
18 - Happy Industries
19 - Lupe The Killer
20 - The Gorilla [produced by DJ Green Lantern]
21 - Lupe Exclusive Sneaker Interlude
22 - Gemini - Southside
23 - Shayla G - What You Talkin' Bout
24 - The Pen & The Needlz [produced by Needlz]
25 - Dear Fall
26 - Failure
27 - Jedi Mind Tricks
28 - MC Fly
29 - Lupe Outro
How To DOWNLOAD