DJ Whoo Kid - Quan: Long Time Coming Vol. 1
Submitted by mfizzel on Sun, 02/19/2006 - 1:20pm.
Mixtape Directory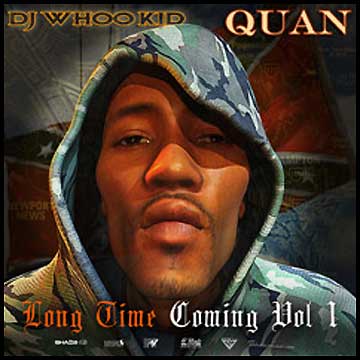 DJ Whoo Kid takes you to Queensbridge to put it down with Quan on
this Shadyville-approved mixtape showcasing the Nas protege. In QB,
one emcee has stood alone for a decade strong -- now the God's Son
passes the torch to his Illmatic Records protege and while the shoes Q's
trying to fill are huge, he's walking with Whoo Kid and that's a good start.
1 - Intro
2 - Been a Long Time
3 - Slick Talk
4 - Simply Ridin' – produced by Red Spyda
5 - Puzzles & Pictures
6 - G Tight
7 - Like Who
8 - On My Grizzle
9 - Cocked and Ready
10 - Real Talk
11 - Truth to be Told
12 - Treacherous
How To DOWNLOAD