DJ Whoo Kid - Kev Samples: The Death Of R&B
Submitted by mfizzel on Sun, 06/25/2006 - 11:57am.
R&B | DJ Whoo Kid | Mixtape Torrents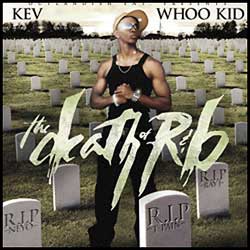 DJ Whoo Kid has never been one to shy away from a controversy, so
with upstart Atlanta R&B artist Kev Samples trying to 'rob the industry,'
it is only fitting that he teamed up with Shadyville/G-Unit's own mixtape
shit-starter to make it happen. Jacking some of today's R&B stars for
their hits, including T-Pain, Ne-Yo & Jamie Foxx, Kev flips the track on
them, taking shots along the way. Could this really be the Death of R&B?

1 - I Luv Music Intro
2 - Kev Samples - Try To F With Me
3 - Kev Samples - So Sick Of This Song
4 - T-Pain Is Dead Skit
5 - Kev Samples - Only Tricks Love A Stripper
6 - Kev Samples - Let Me Hold U Girl
7 - Skit
8 - Kev Samples - U Need One Wish
9 - Kev Samples - I Ain't Gonna Leave
10 - J. Lo & LL Cool J Skit
11 - Kev Samples - Have A Party
12 - Kev Samples feat. Petey Pablo - Naughty [produced by Red Spyda & Whoo Kid]
How To DOWNLOAD