DJ Whoo Kid: G-Unit Radio 16 - Mase 10 Years of Hate
Submitted by mfizzel on Sat, 01/21/2006 - 5:51pm.
Mixtape Directory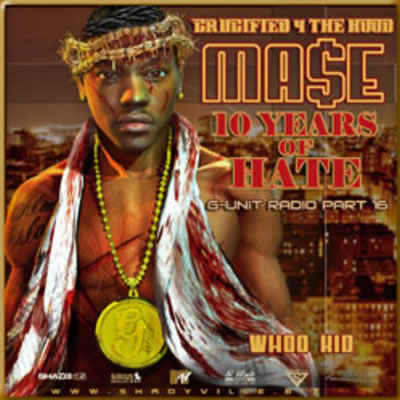 DJ Whoo Kid brings you the mixtape people have been waiting for
since Mase signed to G-Unit. Stepping out of shadows, Murda Mase
makes a controversial return in this Crucified 4 The Hood edition mix.
Harlem's sinister minister is back with that murderous flow, killin' this
mixtape with more than 20 freestyles, tracks & remixes w/ G-Unit...

1 - Murda Mase Intro
2 - Murda Mase – 10 Years of Hate
3 - Murda Mase – Majesty
4 - Murda Mase – Check Cleared
5 - Murda Mase – Don't Need Security
6 - Murda Mase – Harlem Interlude
7 - Murda Mase – Goin Back to Harlem
8 - Murda Mase – Goin Back to ATL Interlude
9 - Murda Mase – From the A Now
10 - Murda Mase feat. 50 Cent – Kamakazi
11 - Murda Mase feat. 50 Cent, Young Buck & Spider Loc – They Don't Bother Me
12 - Pop Off Interlude
13 - Murda Mase – Sorry Pop Off
14 - Murda Mase - Lets Go
15 - Murda Mase – Gat Man
16 - Murda Mase – Throw Back
17 - 50 Cent Tribute Interlude
18 - Murda Mase – Got My Nine
19 - Murda Mase – Gotta Survive
20 - Murda Mase – Mixtape Tour Interlude
21 - 50 Cent feat. Mase – Window Shopper (remix)
22 - Bugsy
23 - DJ Whoo Kid – Shade 45 Interlude
24 - 50 Cent feat. Olivia – Best Friend (remix)
How To DOWNLOAD