DJ Spinatik - Street Runnaz 28
Submitted by mfizzel on Sat, 01/17/2009 - 3:34pm.
Dirty South | DJ Spinatik | Mixtape Torrents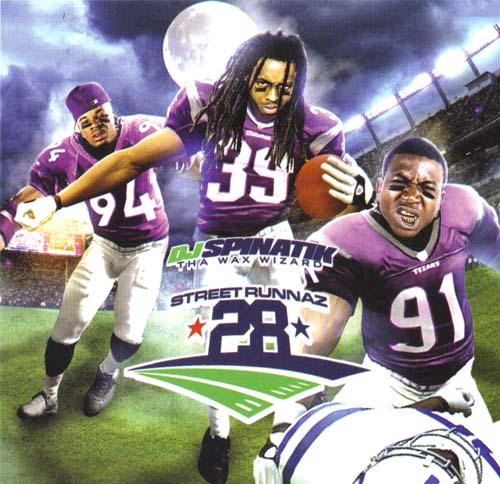 The most anticipated mixtape series in the south is here with the first edition
of the new year. Jam packed with exclusives from all your favorite trappers &
rappers such as Young Jeezy, Gucci Mane, Plies, Lil Wayne and many more!! Street
Runnaz 28 is sure to light your deck on FIRE!!!!
YOU KNOW WHERE YOU GOT IT FIRST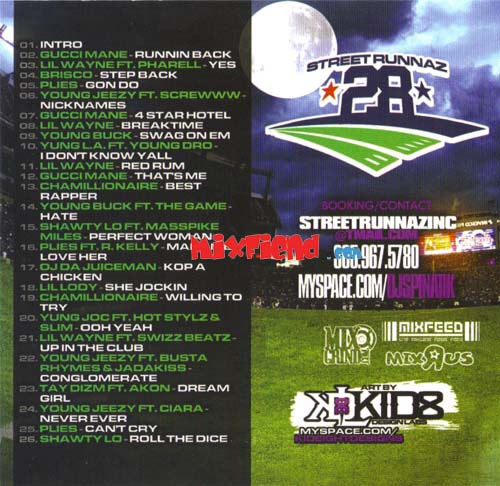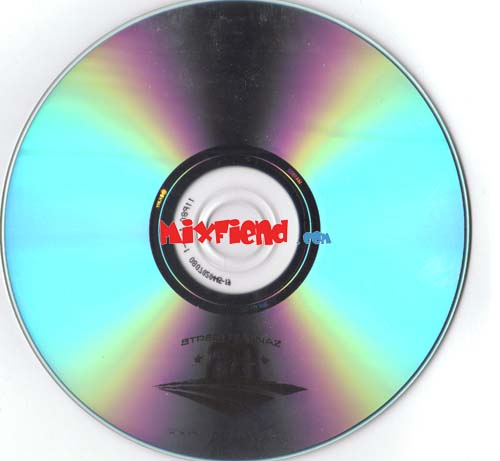 01. Intro
02. Gucci Mane - Runnin Back
03. Lil Wayne ft. Pharell - Yes
04. Brisco - Step Back
05. Plies - Gon Do
06. Young Jeezy ft. Screwww - Nicknames
07. Gucci Mane - 4 Star Hotel
08. Lil Wayne - Breaktime
09. Young Buck - Swag On Em
10. Yung L.A. ft. Young Dro - I Don't Know Yall
11. Lil Wayne - Red Rum
12. Gucci Mane - That's Me
13. Chamillionaire - Best Rapper
14. Young Buck ft. The Game - Hate
15. Shawty Lo ft. Masspike Miles - Perfect Woman
16. Plies ft. R. Kelly - Make Me Love Her
17. Oj Da Juiceman - Kop A Chicken
18. Lil Lody - She Jockin
19. Chamillionaire - Willing To Try
20. Yung Joc ft. Hot Stylz & Slim - Ooh Yeah
21. Lil Wayne ft. Swizz Beatz - Up In The Club
22. Young Jeezy ft. Busta Rhymes & Jadakiss - Conglomerate
23. Tay Dizm ft. Akon - Dream Girl
24. Young Jeezy ft. Ciara - Never Ever
25. Plies - Can't Cry
26. Shawty Lo - Roll The Dice
How To DOWNLOAD