DJ Keyz & Lloyd Banks - Keyz to the Bank
Submitted by mfizzel on Tue, 12/06/2005 - 10:16am.
Mixtape Directory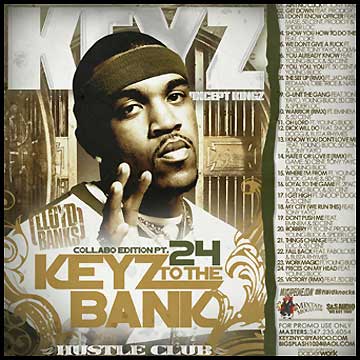 DJ Keyz cashes in on Lloyd Banks on this Cameo/Collabo edition
mixtape featuring all of the G-Unit member's latest collaborations +
all his newest joints. This cameo edition joint features tracks/remixes
featuring 50 Cent & G-Unit, Fabolous, Busta Rhymes, 2pac, Redman,
Snoop Dogg, Nate Dogg and more. All the Lloyd Banks joints around.

1 - Ain't No Click feat. Tony Yayo
2 - Get Down feat. Prodigy
3 - I Don't Know Officer feat. Mase, 50 Cent, Prodigy & Spider Loc
4 - Show You How To Do This feat. Coke
5 - We Don't Give A Fuck feat. 50 Cent, Tony Yayo & Olivia
6 - You Already Know feat. Young Buck & 50 Cent
7 - You, You, You feat. 50 Cent & Young Buck
8 - The Set Up (remix) feat. Jadakiss, Redman, Obie Trice & Nate Dogg
9 - G-Unit The Gang feat. Tony Yayo, Young Buck, 50 Cent & Spider Loc
10 - Warrior (remix) feat. 50 Cent
11 - Oh Lord feat. Young Buck
12 - Dick Will Do feat. Snoop Dogg & Busta Rhymes
13 - I Know You Don't Love Me feat. Young Buck, 50 Cent & Tony Yayo
14 - Hate It Or Love It (remix) feat. Game, 50 Cent, Tony Yayo & Young Buck
15 - Where I'm From feat. Young Buck, Game & 50 Cent
16 - Loyal To The Game feat. 2pac, Young Buck & 50 Cent
17 - I Get High feat. Snoop Dogg & 50 Cent
18 - My City (We Run This) feat. Tony Yayo
19 - Don't Push Me feat. 50 Cent
20 - Robbery feat. 50 Cent, Prodigy, Young Buck & Spider Loc
21 - Things Change feat. Spider Loc & 50 Cent
22 - Fall Back feat. Fabolous & Busta Rhymes
23 - Work Magic feat. Young Buck
24 - Prices On My Head feat. Young Buck
25 - Victory (remix) feat. 50 Cent
How To DOWNLOAD