DJ Envy & JD - So So Def Mixtape #2 ( We In The Streets )
Submitted by mfizzel on Mon, 04/17/2006 - 10:52am.
General | DJ Envy | Mixtape Torrents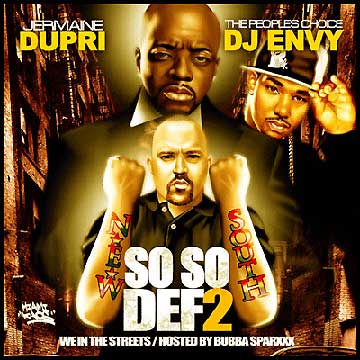 DJ Envy rolls up another So So Def mixtape with the leader of the ATL
hit-making label Jermaine Dupri and Bubba Sparxxx (as he takes a
break from his search for Ms. New Booty). With another dose of that
hot sh*t from the label that only makes hits, this joint bangs out new
hits by Daz, Franchize Boyz, Bubba Sparxxx, T Waters, Bossman &
Young Capone + new hip-hop by Kanye, E-40, Flip, Remy Ma, Busta.

1 - Jermaine Dupri Intro
2 - Daz feat. Kurupt - It's My Thing
3 - Kanye West feat. The Lox - Touch The Sky (remix)
4 - T.I. Freestyle
5 - Styles P feat. Jadakiss - Shots Fired
6 - Bubba Sparxxx Interlude
7 - Bubba Sparxxx feat. Big Boi & Killer Mike - Ms. New Booty (remix)
8 - Busta Rhymes - NY Shit
9 - Shawnna feat. Ludacris - Getting Some Head (remix)
10 - Daz feat. Rick Ross - Real Shit
11 - Bubba Sparxxx - Heat It Up
12 - Brooke Valentine feat. Pimp C - Dope Girl
13 - Lil Flip feat. UGK - U'z A Trick (remix)
14 - E-40 feat. Kanye West & Game - Tell Me When To Go
15 - Sleepy Brown feat. Pharrell & Big Boi - Margarita
16 - Young Capone - Lights, Camera, Action
17 - T. Waters - Hey Leslie
18 - Bossman - Absence Of Hope
19 - Newz Freestyle
20 - Remy Ma - Fucking Him
21 - N.O.R.E. - Do Something
22 - Dem Franchize Boyz feat. Juelz Santana - Show You What I'm Working With
23 - Beenie Man feat. Akon – Girls
How To DOWNLOAD