DJ Envy & Jermaine Dupri - So So Def Mixtape Vol. 1
Submitted by mfizzel on Mon, 01/23/2006 - 12:17pm.
Mixtape Directory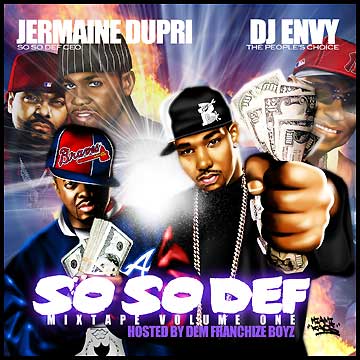 DJ Envy represents on behalf of Jermaine Dupri and So So Def as
he kicks this crazy mixtape full of good sh*t. Hosts Dem Franchize
Boyz kick off this mixtape featuring the Cam'ron vs. Jay-Z track +
Dem Franchize Boyz dissin' D4L. Also featuring new heat from Big
Boi & Busta, Pharrell w/ Robin Thicke/Busta, Mobb Deep & Tony Yayo.
1 - Jermaine Dupri Intro
2 - Dem Franchize Boyz Freestyle (Dissin' D4L)
3 - Dem Franchize Boyz feat. Jim Jones & Dame Dash - Bricks For The High
4 - Cam'ron - You Gotta Love It (Dissin' Jay-Z)
5 - Scarface feat. Beanie Sigel & Game - Snitch (remix)
6 - Jermaine Dupri Interlude
7 - Purple Ribbon All-Stars feat. Big Boi & Busta Rhmyes - Kryptonite (remix)
8 - Lil Easy E - Coming From Compton (Dissin' Game)
9 - Mobb Deep feat. Tony Yayo - Guns, Drugs & Bloods (Gang Bang Music)
10 - LL Cool J feat. Jennifer Lopez & Jermaine Dupri - Control Myself
11 - Raekwon feat. Busta Rhymes - State Of Grace (remix)
12 - Newz feat. Maino & Notorious B.I.G. - Spit Your Game
13 - Bossman Freestyle
14 - Remy Ma - Secret Location
15 - Dem Franchize Boyz feat. Bun B - My Music
16 - Sunny feat. Newz & T. Waters Freestyle
17 - Memphis Bleek Freestyle
18 - T. Waters - Hey Ma
19 - Notorious B.I.G. feat. Ghostface & Raekwon - Bleed [not on album]
20 - Robin Thicke feat. Pharrell & Busta Rhymes - Wanna Love You Girl (remix)
21 - Ghostface feat. Neyo - Like That
22 - Mary J. Blige feat. Da Brat - Be Without You (remix)
23 - Beenie Man - Hmmmm Mmmmm (One Man)
24 - Jermaine Dupri Outro
How To DOWNLOAD