DJ Whoo Kid - Young Buck: Chronic 2006 (Hosted By Jamie Foxx)
Submitted by mfizzel on Fri, 08/11/2006 - 2:08pm.
Dirty South | DJ Whoo Kid | Mixtape Torrents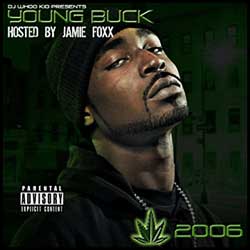 Relax and take notes, while Young Buck takes
tokes of the marijuana smoke. Fired up with his
G-Unit family, including DJ Whoo Kid and
special guest and extended family member
Jamie Foxx, Buck Marley takes you on
smoker's journey.
In anticipation of his 2nd album release Buck
The World (due out later in 2006), the
Tennessee titan laces this almost entirely
exclusive mixtape with clouds of mixtape
chronic.
Young Buck is joined by friend Jamie Foxx on
this hazy mixtape journey, breaking out new
cuts.

1 - Jamie Foxx Chronic 2006 Intro
2 - Young Buck - Doin' My Thing
3 - Young Buck - Thug Til Your Death Day
4 - Young Buck - Ride
5 - Jamie Foxx Skit
6 - Young Buck feat. 50 Cent -Do It Myself
7 - Young Buck feat. Tony Yayo -Dont Make Me Hurt You !
8 - Young Buck - Return Of The Project Nigga
9 - Vibe Awards Skit
10 - Young Buck - Niggas A Change On You
11 - Young Buck - Gettin High
12 - Young Buck - Married To My Gun
13 - Young Buck feat. Hi-C - Get That Brick
14 - Vibe Awards Skit #2
15 - Young Buck feat. Hi-C, Lil Murda -Stomp That Snitch
16 - Jamie Fox Skit
17 - Young Buck feat. Mobb Deep - Project Niggas
18 - Vibe Awards Skit #3
19 - Young Buck - On The Corner
20 - Young Buck feat. Tony Yayo, Lil' Murder - The Projects
21 - Young Buck feat. M.O.P. - Guns Go Bang
22 - Jamie Fox & Lil' Scrappy Skit
23 - Young Buck feat. Lil' Scrappy - Money In The Bank
24 - Young Buck feat. DJ Drama - Freak
25 - Young Buck Live In Sumfest 2006 Jamaica (Weed Break) [In Front Of 28,000 People With The Whole Marley Family And Bounty Killer (Peep The Live Guns Shots)]
How To DOWNLOAD