Wordsmith - The Vintage Vault Mixtape
Submitted by mfizzel on Tue, 02/23/2010 - 12:58pm.
East Coast | Mixtape Torrents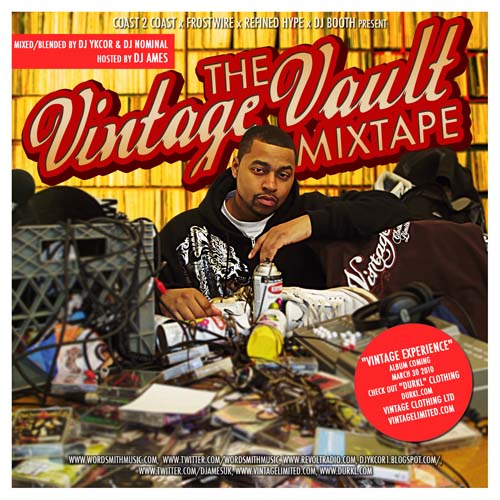 Wordsmith is ready to unlock his vault of vintage music for the world to hear.
Consisting of tracks that has been locked up since 2003, Word is giving away the
last of his old material in the '00. With sponsorship from Coast 2 Coast
Mixtapes, Refined Hype, DJ Booth and Frostwire, the music will be reaching
audiences in the US and abroad equally.
Mixed/blended by Nu Revolution DeeJay's DJ Ykcor & DJ Nominal, UK mixtape master
DJ Ames lends some overseas flavor by hosting, with production from Strada,
Professa, Capish, Street Level and UK producer Stealf. The mixtape features
include Kontact & Black Knight, Soulstice, Junclassic, Cyrano, Whitefolkz,
RAtheMC, Braille, Sir Aah, Laelo Hood and more, plus UK MC's Manny Mascow and
Genesis Elijah.
01-Wordsmith-Dj Ykcor-Dj Ames Intro
02-Wordsmith-Coming Of Age (Produced By Professa)
03-Wordsmith-Leap Of Faith (Produced By J Stillton)
04-Wordsmith Feat. Black Knight & Kontact-Great Escape (Produced By Capish)
05-Wordsmith Feat. Kontact, Black Knight, Junclassic, Rathemc & Soulstice-Ladder
Of Success Remix (Produced By Street Level)
06-Wordsmith-The Making Of Senor Wordsmith (Produced By Strada)
07-Wordsmith-Slanguistics (Produced By Strada)
08-Siyam, Wordsmith & Augustus The Mac-An Indecent Time (Produced By Siyam)
10-Wordsmith-The Daily Word 2006-2009 Edition (Produced By Capish & Wdz)
11-Wordsmith-March Madness (Produced By Strada)
12-Wordsmith-Space Age Rock (Produced By Strada)
13-Wordsmith-Feat. Kimia Collins-Special Request (Produced By Rednaz Beats)
14-Wordsmith Feat. Kontact, Black Knight, Whitefolkz & Manny Mascow-
International Incense (Produced By Cashflow)
Bonus-Wordsmith-Dreamchild (Produced By Professa)
How To DOWNLOAD