Chubb Rock & Wordsmith - A Crack In The Bridge (Mixed & Blended By DJ King Assassin)
Submitted by mfizzel on Wed, 05/13/2009 - 7:00am.
East Coast | Mixtape Torrents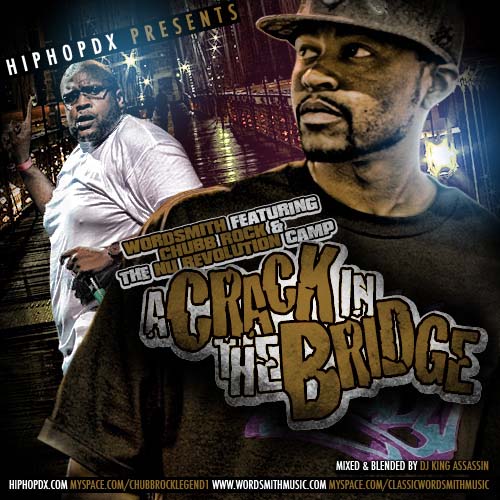 With the "Bridging the Gap" album dropping on June 16th, it was only right that
Chubb Rock & Wordsmith get you in the mood for some real music courtesy of
HipHopDX and Dub MD Promotions. More on the mellow side of things, "A Crack in
the Bridge" mixtape is just a small appetizer in comparison to the album.
Boasting only soulful singing sensation Kimia Collins on the album, Wordsmith
looked to display his Nu Revolution Camp throughout the mixtape.
Consisting of Kontact, Black Knight & Sly Solomon you have heard these MC's on
numerous Wordsmith tracks over the past 2 years. Keeping it in the family and
homegrown, Baltimore MC's Soulstice and Articulate are the only outside
features. In closing, enjoy this mixtape and support not just real hip hop, but
good music in general. Chubb Rock & Wordsmith will see ya'll on June 16th!
01.) Back In (feat. Kimia Collins) (Produced by Strada)
02.) Our Luv (Produced by Strada)
03.) Conversation With My Soulmate (Produced by Strada)
04.) I'm Here Now (feat. Kontact & Black Knight) (Produced by Street Level)
05.) Another Party Joint (Produced by Strada)
06.) The New Street Kings (feat. Articulate & Black Knight) (Produced by Strada)
07.) Top Of The World (feat. Nu Revolution Camp) (Produced by Street Level)
08.) Music For The Millennium (feat. Soulstice) (Produced by Capish)
09.) Virtual Relaxation (feat. Kontact & Black Knight) (Produced by Professa)
10.) Letters Through Time (feat. Kontact & Black Knight) (Produced by Professa)
11.) Bridging The Gap (Snippet) (Produced by Strada)
How To DOWNLOAD