Tapemasters Inc - The Future Of RnB Pt 7
Submitted by mfizzel on Thu, 12/01/2005 - 3:07pm.
Mixtape Directory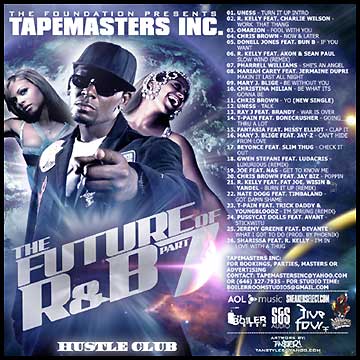 Tapemasters Inc. hits you with the seventh round of this hit R&B series
with 25 of the latest R&B tracks including 4 new remixes. This features
some sexy new R&B from Mary J Blige & Jay-Z, Pharrell, Donell Jones
& Bun B, Akon & Sean Paul, Chris Brown, Ray J & Brandy, Fantasia &
Missy Elliot, T-Pain & Mike Jones, Mariah Carey and Jermaine Dupri.
1 - Uness – Turn It Up Intro
2 - Charlie Wilson – Work That Thang
3 - Omarion – Fool With You
4 - Chris Brown – Now & Later
5 - Donell Jones feat. Bun B – If You Want
6 - Akon & Sean Paul – Slow Wind (remix)
7 - Pharrell Williams – She's An Angel
8 - Mariah Carey feat. Jermaine Dupri – Makin' It Last All Night
9 - Mary J. Blige – Be Without You
10 - Christina Milian – Be What It's Gonna Be
11 - Chris Brown – Yo
12 - Uness - Talk
13 - Ray J feat. Brandy – War Is Over
14 - T-Pain feat. Mike Jones – I'm In Luv With A Stripper
15 - Fantasia feat. Missy Elliot – Clap Ya Hands
16 - Mary J. Blige feat. Jay-Z – Can't Hide From Love
17 - Beyonce feat. Slim Thug – Check It Out
18 - Gwen Stefani feat. Ludacris – Luxurious (remix)
19 - Joe feat. Nas – Get To Know Me
20 - T-Pain feat. Trick Daddy & Youngbloodz – I'm Sprung (remix)
21 - Chris Brown feat. Jay Biz – Poppin
22 - Fat Joe, Wisin & Yandel – Burn It Up (remix)
23 - Nate Dogg feat. Timbaland – Got Damn Shame
24 - Pussycat Dolls feat. Avant – Stickwitu
25 - Jeremy Greene feat. Devante – What I Got To Do (produced by Phoenix)
26 - Sharissa – I'm In Love With A Thug
How To DOWNLOAD