Tapemasters Inc - The Future Of RnB 6
Submitted by mfizzel on Thu, 12/01/2005 - 3:31pm.
Mixtape Directory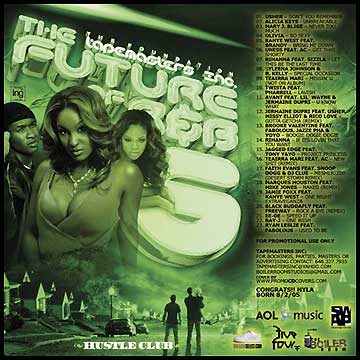 TapeMasters Inc. comes through with all the latest new R&B from all
your favorite artists. This new mixtape is packed with new R&B and
remixes feat. Olivia, Mary J Blige, Rihanna, Missy Elliot, Faith Evans,
Teairra Mari, Snoop Dogg, Kanye W., Marques Houston & Mike Jones.

1 - Mary J. Blige – Never Too Much
2 - Olivia – So Sexy
3 - Kanye West feat. Brandy – Bring Me Down
4 - UNeSS feat. AC – Get That Shorty
5 - Rihanna feat. Sizzla – Let This Be The Last Time
6 - Syleena Johnson – Special Occasion
7 - Teairra Mari – Missin' U (not on album)
8 - Twista feat. Pharrell – Lavish
9 - Avant feat. Lil' Wayne & Jermaine Dupri – U Know What
10 - Jermaine Dupri feat. Missy Elliot & Rico Love – Gotta Getcha (remix)
11 - Brooke Valentine feat. Fabolous, Jazze Pha & Yoyo – Boogie Oogie Oogie
12 - Rihanna – If Its Lovin That You Want
13 - Jagged Edge feat. Tony Yayo – Project Princess
14 - Teairra Mari feat. AC – New Shit (remix)
15 - Faith Evans feat. Snoop Dogg & DJ Clue – Mesmerized (Desert Storm remix)
16 - Marques Houston feat. Mike Jones – Naked (remix)
17 - Jamie Foxx feat. Kanye West – One Night Extraveganza
18 - Black Buddafly feat. Freeway – Rock A Bye (remix)
19 - Ee-De – Speed It Up
20 - Ray-J – One Wish
21 - Ryan Leslie feat. Fabolous – Used To Be
How To DOWNLOAD