Rob E. Rob & The Red Child - The Official Nas Mixtape
Submitted by mfizzel on Sun, 03/12/2006 - 8:10am.
Mixtape Directory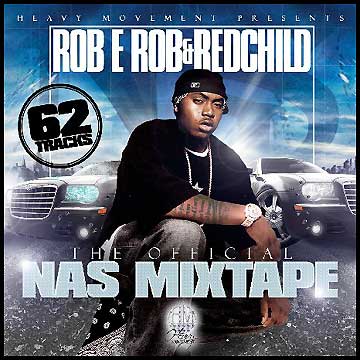 Rob E. Rob and Red Child pay homage to one of the 10 greatest
rappers of all-time with this mixtape comprised entirely of tracks by
Nas aka. Escobar. This mixtape supplies you with more than 60 hits,
remixes, verses/freestyles and classics. He went from Nasty to Nas
from Nas to Escobar on this mixtape spanning the God's Son's career.

1 - Intro To Da Death
2 - Nas - Freestyle
3 - Nas - Freestyle (Splittin' Phillies)
4 - Notorious B.I.G. - Interlude
5 - Nas - It Ain't Hard To Tell
6 - Nas - Momma Shake Ya Thing
7 - Nas, AZ - Life's A Bitch
8 - Nas - Good Morning (Gods' Blessing)
9 - Jadakiss - Interlude (Why?)
10 - Nas - Mother Of The Earth
11 - Nas - The Firm
12 - Nas - Phone Tap
13 - Nas - The World Is Yours
14 - Ludacris - Interlude
15 - Nas - If I Ruled The World
16 - Nas - I Can
17 - Nas, O. Daru - Bridging The Gap
18 - Notorious B.I.G. - Interlude
19 - Nas - Hate Me Now
20 - Nas - Either
21 - Nas - I Gave U Power
22 - Nas - One Mic
23 - Nas - Memory Lane
24 - Nas - One Love
25 - Nas - Represent, Represent
26 - Nas - Nastradamous
27 - Nas - Street Dreams
28 - Nas - Oochie Wally
29 - Nas - U Owe Me b/w "Touch It" (Rob E Rob blend)
30 - Nas - U Owe Me
31 - Nas - Come Take A Ride
32 - Nas - To All The Niggas
33 - Nas - Sleep Is The Cuzin To Death
34 - Nas - K-I-S-S-I-N-G
35 - Nas - Fast Life
36 - Nas - Be With You
37 - Nas - Revolutionary Warfare
38 - Nas - Disciples
39 - Nas - Street Legends
40 - Nas - Warriors Way
41 - Nas - On The Real
42 - Nas - One Time For Ya Mine
43 - Nas - New York State Of Mind Pt. 1
44 - Nas - Got Ya Self A Gun
45 - Nas - Virgo
46 - Nas - Glamor An Gold
47 - Nas - Thugs Mansion
48 - Nas - Moment Of Silents
49 - Nas - Daddy's Little Girl
50 - Notorious B.I.G. (Interlude)
51 - Nas - If Heaven Was A Mile Away
52 - Nas - When I Flow For Da Streets
53 - Nas - Close To U
54 - Nas - Nas Is Coming
55 - Nas - Gangsta Tears
56 - Nas - Mo Money Mo Murder
57 - Nas - It's On
58 - Nas - Nas Is Like
59 - Nas - The Bridge Is Over
60 - Nas - New York State Of Mind Pt. 1
61 - Nas - Wannas Be Me
62 - DJ Rob E. Rob - Contact Info
How To DOWNLOAD