Nasty Nas & DJ Premier: Pre-Matic Noize Mob DJs
Submitted by mfizzel on Wed, 05/31/2006 - 6:03am.
East Coast | DJ Premier | Mixtape Torrents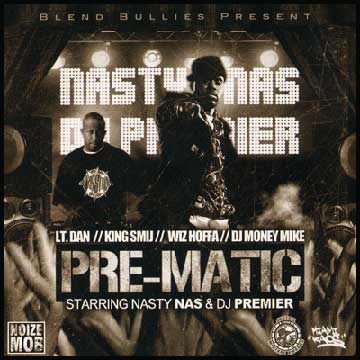 With Scratch mag dedicating its January 2006 cover to the fantasy of
a DJ Premier and Nas collaboration, the hip-hop world gullibly fell victim
to the hype. And while Nas' recent Def Jam signing means an all-Primo
album is indefinitely out of the question, a handful of Noize Mob DJs
have pieced together what it might sound like. Money Mike, King Smij,
Lt. Dan and Wiz Hoffa all lay tracks down on this blends/remix mixtape.

DJ MONEY MIKE
1 - Pre-Matic Scratch Intro
2 - The Flyest feat. AZ (Money Mike blend)
3 - Got Urself A Gun (Money Mike blend)
4 - Recognize One Love feat. Akon (Money Mike blend)
5 - Virgo feat. Doug E Fresh (Money Mike blend)
6 - The Last Real Nigga Alive (Money Mike blend)
7 - If I Ruled The World (Money Mike blend)
8 - Book Of Rhymes (Money Mike blend)
KING SMIJ
9 - Small World (King Smij blend)
10 - Salute Me (King Smij blend)
11 - Made U Look Verse (King Smij blend)
12 - Blaze A 50 (King Smij blend)
LT. DAN
13 - It's Mine feat. Mobb Deep & Jadakiss (Lt. Dan blend)
14 - Hate Me Now feat. Jon Conner (Lt. Dan blend)
15 - The World Is Yours (Lt. Dan blend)
16 - Street Dreams feat. Notorious B.I.G. (Lt. Dan blend)
WIZ HOFFA
17 - Life's A Bitch feat. AZ (Wiz Hoffa blend)
18 - Nas Is Like [original]
19 - Represent [original]
20 - Life Is What U Make Of It feat. DMX (Wiz Hoffa blend)
21 - Memory Lane [original]
22 - Come Get Me [original]
23 - Still On My Style feat. Ashanti (Wiz Hoffa blend)
24 - Thief's Theme Verse (Wiz Hoffa blend)
25 - Fast Life feat. Kool G Rap (Wiz Hoffa blend)
BONUS TRACKS
26 - NY State Of Mind [original]
27 - I Gave U Power [original]
28 - NY State Of Mind Pt. 2 [original]
29 - 2nd Childhood [original]
How To DOWNLOAD