Pharrell & Kanye West: Skateboards & Blazers #2
Submitted by mfizzel on Tue, 01/17/2006 - 10:27am.
Mixtape Directory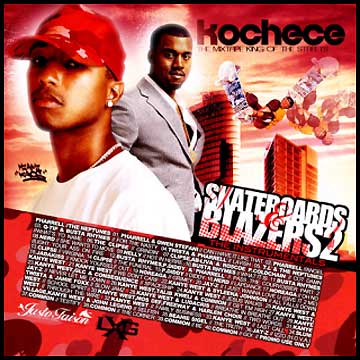 Kochece follows up the Best Of edition of Pharrell and Kanye West's
mixtape Skateboards & Blazers with this special instrumental edition mix.
Featuring 40 instrumentals from Lil' Skateboard P. and The Louis Vuitton
Don, this mixtape features the hip-hop game's hottest beats from its two
super-producers (and rappers) – 40 classic, neck-breaking instrumentals.

PHARRELL & THE NEPTUNES
1 - Pharrell And Gwen Stefani - Can I Have It Like That
2 - Pharrell - Angel
3 - Q Tip And Busta Rhymes - For The Nasty
4 - Twista And Pharrell - Lavish
5 - T.I. And The Neptunes - Whats Yo Name
6 - The Clipse - Grindin
7 - Clipse, Ab Liva And Roscoe P Coldchain - Cot Damn
8 - N.E.R.D. - She Wants To Move
9 - Nelly - Hot In Here
10 - Busta Rhymes - What It Is
11 - Busta Rhymes - Light Your Ass On Fire
12 - Busta Rhymes, P Diddy And Pharrell - Pass The Courvoiseur Part 2
13 - Clipse - Virginia
14 - Clipse - The Funeral
15 - P Diddy - Diddy
16 - N.E.R.D. - Lapdance
17 - Noreaga - Oh No
18 - Jadakiss - Knock Yourself Out
19 - Noreaga - Grimey
20 - Jay Z - I Just Wanna Love U
KANYE WEST
21 - Kanye West - We Dont Care
22 - Kanye West And Syleena Johnson - All Falls Down
23 - Kanye West And Glc - Spaceship
24 - Kanye West - Jesus Walks
25 - Kanye West And Jay Z - Never Let Me Down
26 - Kanye West, Talib Kweli, Common - Get Em High
27 - Kanye West, Twista And Jamie Foxx - Slow Jamz
28 - Kanye West And Ludacris - Breathe In Breathe Out
29 - Kanye West - School Spirit
30 - Kanye West, Mos Def, Freeway And Harlem Choir - Two Words
31 - Kanye West - Through The Wire
32 - Kanye West - Family Business
33 - Kanye West - Last Call
34 - Slum Village, Kanye West And John Legend - Selfish
35 - Beanie Siegel - The Truth
36 - Jay Z - Izzo
37 - Common - Testify
38 - Common - The Corner
39 - Common - Be
40 - Common - Go
How To DOWNLOAD