Outkast's New Album Pushed Back Until At Least February
Submitted by mfizzel on Tue, 11/29/2005 - 11:32am.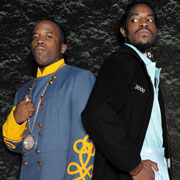 Soundtrack to "Idlewild" was supposed to drop in December.
Not too long ago, Outkast's Big Boi was working fans into a tizzy with talk of a December release for Idlewild, the soundtrack to the ATL duo's upcoming film and the first album of new 'Kast music in more than two years.
And while we still stick by our assertion that whatever Big Boi wants, Big Boi gets, perhaps he was getting a bit carried away with things. Because according to Outkast's label, LaFace Records, the earliest Idlewild will be seeing the light of day is now February.
But it's not like that's too surprising, considering that when MTV News caught up with Boi earlier this month at the Vibe Awards, he told us that the album wasn't even finished yet.
"We're about 75, 80 percent done with it. We're putting the finishing touches on it. Dre's in Atlanta right now working on it," he laughed. "There's like three potential singles right now, and we're trying to choose which one we're going to go with. When it comes out, you know it's going to be Outkast."
According to Boi, the album features 14 tracks, including "The Train" and "Idlewild Blues," and it'll be relatively free of cameos, with just frequent Outkast collaborator Sleepy Brown and Janelle Monae (whom Boi just signed to his Purple Ribbon label) making appearances. He also said that the album mirrors the jazz-era leanings of the "Idlewild" film, still due sometime next year.
"It matches the movie. The movie's set in the 1930s, so there's a lot of piano playing, a lot of ragtime, Cab Calloway, Jelly Roll [Morton]. A lot of different stuff on the album," he said. "It's a very mature album, it's rapping and everything else. You've got to expect what you always expect from Outkast, and that's the unexpected."
Reported by www.MTV.com
How To DOWNLOAD