Newz - The Takeover Part 1 (Hosted by DJ Envy)
Submitted by mfizzel on Wed, 01/25/2006 - 8:40pm.
Mixtape Directory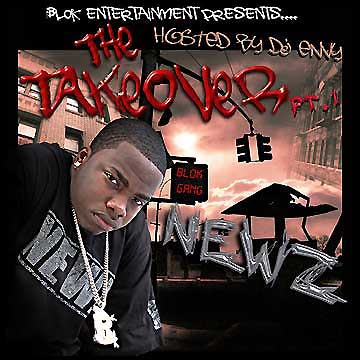 DJ Envy is the president and CEO of BLOK Entertainment and he hosts
The Takeover for his artist Newz. This is the long awaited solo mixtape by
Newz that has 23 tracks including new freestyles & remixes that feature
cameos from fellow BLOK Gang rep Coke, Jae Millz, Kanye West, Chris
Brown, Ciara, T-Pain, Maino, Ja Rule, Red Cafe, Killa Mike and Big Boi.
1 - Newz Intro
2 - Make Ya Love Me - Newz
3 - Live From Clinton - Megaman (BLOK Gang)
4 - Snitch Nigga - Newz (produced by C4)
5 - Fuck Boy - Newz feat. Coke (produced by Sha-Teek)
6 - Spit Ya Game - Newz feat. Maino
7 - World War III - Newz feat. Jae Millz
8 - Whip Ya Head Boy- Newz
9 - G's Up- Newz
10 - Kryptonite (remix)- Big Boi, Killa Mike feat. Newz
11 - Three 6 Mafia - Newz (freestyle)
12 - Gangsta Strole- Newz
13 - Like U - Newz feat. Ciaira
14 - I Ain't Got It - Newz
15 - Yo (remix) - Chris Brown feat. Newz
16 - I'm Sprung - T Pain feat. Newz
17 - Stay (remix) - Ne-Yo feat. Newz
18 - Gat-Man - Newz
19 - I'm Ready - Newz feat. Ja Rule
20 - Where Brooklyn At - Newz feat. Red Cafe
21 - Real Thing - Newz (produced by GQ Beats)
22 - Let's Get It On - Newz (produced by C4) "04" Flashback
23 - Who - Newz (freestyle)
24 - Whole Life - Kanye West feat. Newz
How To DOWNLOAD