DJ On Point : Joe Budden - Mood Muzik 2
Submitted by mfizzel on Mon, 01/02/2006 - 7:30pm.
Mixtape Directory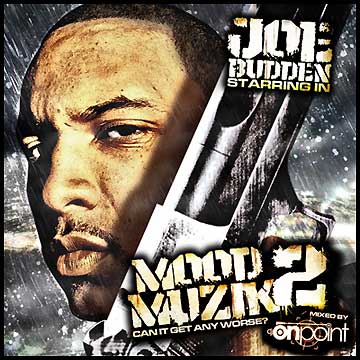 Joe Budden became Jumpoff Joe Budden with the mixtape success of
his smash debut hit "Jumpoff." Since then, using mixtapes to speak his
mind, the New Jersey rap star has held the mixtape game down. Joining
DJ On Point, one of Def Jam's most coveted artists hooks up his fans
with another round of exclusives & freestyles w/ major new production...
1 - Intro
2 - Are You In That Mood Yet
3 - Old School Mouse (produced by Ron Browz)
4 - Killa B.H. Skit Part 1
5 - 6 Minutes Of Death feat. Jae Millz & Stack Bundles
6 - So Serious (produced by C4)
7 - Get It Poppin (produced by Soul Diggers)
8 - The Future (produced by Dub B)
9 - If I Die Tomorrow (produced by E-Zo)
10 - Young Niggas (produced by Ron Browz)
11 - Phone Sex Interlude
12 - World Takeover (produced by C4)
13 - Dumb Out (produced by The Architechs)
14 - Killa B.H. Skit Part 2
15 - Ghetto America Snippet (produced by C4)
16 - What's Up feat. Newz & A-Team (produced by Cosere)
17 - 40 Licks (produced by Nelly Nel)
18 - For A Reason (produced by Boola)
19 - Three Sides To A Story (produced by Scott Storch)
20 - Stained (produced by Scram Jones)
How To DOWNLOAD