DJ Exclusive & The Game - Mixtape Advocate
Submitted by romeo on Mon, 12/04/2006 - 9:37am.
West Coast | DJ Exclusive | Mixtape Torrents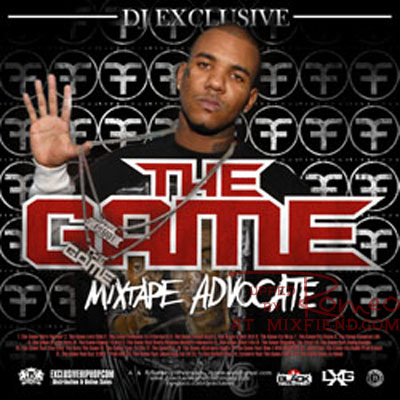 The Game/BWS returns this time with DJ Exclusive. Packed w/ Exclusive
Tracks & Freestyles! Guest features including Nas, Busta Rhymes, Kanye,
Snoop, Xzibit, T Pain & More! Plus extra features from the BWS Camp.
1. The Game - Here Forever [0:13]
2. The Game - Lets Ride [3:27]
3. The Game - Welcome To Aftermath [3:59]
4. The Game - Soundscan [3:03]
5. The Game - G Unit Skit [3:03]
6. The Game - Its Okay [3:31]
7. The Game - My Name [0:19]
8. The Game - Compton Life [4:27]
9. The Game - Its My Turn [3:59]
10. The Game - Signed To Dre [0:16]
11. The Game - Doctors Advocate Ft. Busta Rhymes [4:44]
12. The Game - What I Do [3:22]
13. The Game - Changing The West [0:27]
14. The Game - Banging Ft. Snoop Dogg [5:15]
15. The Game - Why You Hate The Game Ft. Nas [9:16]
16. The Game - True To Life [1:02]
17. The Game - O.E [4:12]
18. The Game - Alternate Route [0:29]
19. The Game - 1-800 Homicide Ft. Dion [1:31]
20. The Game - We Rollin Ft. Juice (Produced By Kanye West) [3:36]
21. The Game - Bail Ft. X-Zibit And T-Pain [4:36]
22. The Game - Fuck Them All Ft. Juice [4:17]
23. The Game - Before Rap Ft. Ya Boy [3:19]
24. The Game - Feel It Ft. Cyssero [4:00]
25. The Game - Done To Much [2:03]
How To DOWNLOAD